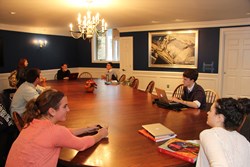 "This painting is about overcoming adversity," said Mr. D'Antonio. "Students can expect that life will not necessarily provide an easy path, but with experience and some courage comes the ability to better navigate any situation."
Princeton, NJ (PRWEB) October 16, 2013
In honor of The Hun School's centennial year, Bucks County, PA artist and alumnus John D'Antonio '72 and his wife Rebecca, donated a hand-touched, signed giclée of his famous painting "Windward," 2011. The "Windward" giclée has been installed in the newly renovated Centennial Classroom in the Chesebro Academic Center.
"This is a spectacular work of art. We are fortunate not only to call John an alumnus of The Hun School, but also to be able to share his gift with our students on a daily basis," remarked the boarding school Headmaster Jonathan Brougham.
"Windward" is a 30" by 60" depiction of a ship charging into an oncoming wave. It evokes a message of meeting challenges head on, with strength and resolve.
"This painting is about overcoming adversity," said Mr. D'Antonio. "As a viewer, you are placed at the helm of this ship. And the take-away message, in my mind, is that with self-confidence, drive, and maintaining direction, one can overcome the toughest of obstacles. Students can expect that life will not necessarily provide an easy path, but with experience and some courage comes the ability to better navigate any situation."
Mr. D'Antonio is among the country's leading artists in the field of contemporary realism and representational art. His career spans four decades, and the evolution of his art has been influenced by a diverse network of artists including: Roy Lichtenstein, Richard Merkin, Louise Nevelson, David and Naomi Savage, Man Ray, George Weymouth, N.C. Wyeth, and Andrew Wyeth.
The giclée hangs in the newly renovated Centennial Classroom, also featuring a Harkness table and state-of-the-art presentation equipment.
The Hun School of Princeton, founded in 1914, is a co-educational, independent college preparatory school in New Jersey. Student-centered learning is encouraged within the context of a traditional curriculum, preparing its students for the global community in which they will live and work. Individual attention and strong student-faculty relationships are the hallmarks of the School. The Hun School is comprised of 629 students in its Middle School, Upper School, and Postgraduate Program. The boarding community is home to 141 students from seventeen countries and fifteen states.