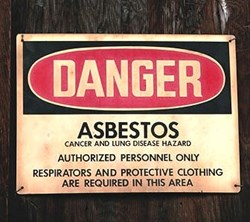 Asbestos is responsible for thousands of deaths in the UK every year but it only becomes dangerous when it is broken up and fibres are released into the air.
Bolton, UK (PRWEB UK) 21 October 2013
Last week, Trafford Magistrates' Court (Case Reference S20131110) heard that Steven Kelly, aged 41, of Kirkby, ignored the company's procedures of working with asbestos, whilst carrying out asbestos removal at Trafford College.
During a Health and Safety Executive unannounced visit to the college, it is alleged that inspectors identified three workers fixing the temporary lighting in the undercroft, an area of the college where asbestos was being removed, but they were not using suitable equipment clothing or masks.
According to the HSE' Press Release, it is believed that the employees were wearing their own clothes under their overalls and half masks instead of full respiratory masks. As a result, the three workers have been put at risk of asbestos exposure. Potentially, the fibres - as well as dust - could have remained on their clothes throughout the day.
It is alleged that, more issues were discovered on the site by HSE, such as insufficient water to sponge down boots and failure to carry out masks checks daily.
Commenting on the news, Tom Fairclough, Executive at Asons Solicitors, said that:
"According to the Health and Safety Executive's press release, Mr Kelly is a qualified and trained asbestos contractor, despite this, no adequate safety measures were allegedly in place at Trafford College and employees were allowed to enter a sealed off area without adequate equipment."
"Here at Asons, we strongly believe that no one should suffer because of negligence from an employer. Those who have experienced similar working conditions, or suffer from an asbestos related illness, should not hesitate to make an asbestos claim."
Speaking after the hearing, HSE Inspector Laura Moran said:
"Asbestos is responsible for thousands of deaths in the UK every year but it only becomes dangerous when it is broken up and fibres are released into the air.
"That's why asbestos can only be removed by specialist contractors but, as the site supervisor, Steven Kelly put workers at risk by not following the correct safety procedures.
"He simply should never have allowed three men to go into a contaminated area while wearing their own clothes, and without the correct protective clothing and respiratory masks.
"Workers, their families and anyone else who came into contact with them would have been put at risk as a result of Mr Kelly allowing the men to wear lace-up boots and the clothes they intended to go home in.
"Thankfully, we were able to stop the work and make sure the clothes were disposed of as contaminated waste."
Asons Solicitors have a dedicated team of industrial disease specialists, dealing with cases of asbestos related diseases and giving people legal advice, particularly in the area of asbestos related diseases. Exposure to asbestos can be deadly, and Asons urge anyone who feels they may have been exposed to asbestos fibres to consult their GP immediately for a consultation, and contact an industrial disease specialist for legal representation.
Asons Solicitors suggest that if someone would like to learn more about the asbestos compensation process, or if they would like to better understand the condition, that information is available at http://www.asons.co.uk, or via an expert helpline on 01204 521 133
(1) Health and Safety Executive - Workers exposed to asbestos fibres at college, 11/10/2013 hse.gov.uk/press/2013/rnn-nw-workers-exposed-to-asbestos-fibres-at-college.htm

About Asons Solicitors:
Asons Solicitors is a Bolton-based law practice that specialises in personal injury and industrial disease claims. Founded by brothers Imran Akram and Kamran Akram, Asons Solicitors has developed to become a young and dynamic law firm that delivers practical solutions to clients in times of difficulty. Their continued focus on their staff has seen them awarded with the Investors in People "Gold Award"; which is reflected in the professional and personable approach they take in working with clients. They strive to grow and to develop, and their supportiveness and attention to detail ensures that their clients use them time and again.
For further information contact:
Email: info(at)asons(dot)co(dot)uk
Website: http://www.asons.co.uk