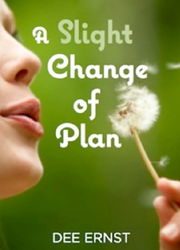 With family, friends, and a healthy sense of humor, anything is possible.- Dee Ernst
Parsippany, New Jersey (PRWEB) November 12, 2013
Dee Ernst, longtime Parsippany resident and Amazon best-selling author of Better Off Without Him and A Different Kind of Forever, is launching her third romantic comedy, A Slight Change of Plan, on November 19, 2013. This marks her second release through Amazon/Montlake.
"A Slight Change of Plan," is the story of a 50-something widow, Kate Everett, as she begins her 'Second Act'. With her children grown, she sells her family home, quits her high-pressure job, and even tries on-line dating as she attempts to re-write her life story. But her well-laid plans keep crashing into real life in a mixture of humor, heartbreak and romance.
"A Slight Change of Plan," is set in and around Morris County, New Jersey. Because one of the scenes in the book takes place at the Dublin Pub in Morristown, NJ, Ernst has chosen the popular eatery for her launch party on November 19, from 6 to 10 pm. The public is invited, and there will be books for sale as well as giveaways, like bookmarks, t-shirts, and dinner for two.
Dee Ernst writes novels about women 'of a certain age', always realizing that with family, friends and a healthy sense of humor, anything is possible. For more information about "A Slight Change of Plan," visit https://www.facebook.com/pages/Dee-Ernst/168444013192463
or https://www.DeeErnst.com
About the Author
Dee Ernst, a Jersey Girl to the core, was born in Newark, New Jersey, and grew up in Morristown. She attended Marshall University, where she majored in journalism. Several years, career changes, and daughters later, she revived her dreams of being a writer after listening to the Joan Hamburg Show. A guest made the suggestion that if you want to be happy, you should go back to what you were doing when you were ten and try to make it a career. Since Dee was writing stories when she was ten, she decided that she ought to give it another go. After three novels and many rejection letters, she decided to self-publish Better Off Without Him, and did so to great reception and reader reviews. Her second book, A Different Kind of Forever, was released in April of 2012. She is happily married, with two amazing daughters, and lives in New Jersey.