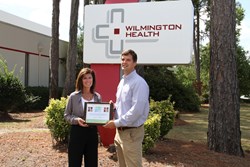 "...the vaccine donation through Greater Gift Initiative also allows each employee at Wilmington Health to make a global impact." Jennifer Byrne, GGI President & Founder
(PRWEB) October 16, 2013
PMG Research, Inc. and Wilmington Health announced the finalization of a Master Agreement that formalizes a five-year relationship between the two organizations. To commemorate the partnership, a vaccine honoring each of the 700 employees at Wilmington Health was donated through the Greater Gift Initiative, whose mission is to advance global health and highlight the greater good of clinical trial participation by gifting a vaccine to a child in honor of every clinical trial volunteer. Vaccines were selected as the gift of choice because they have contributed to the improvement of global health more than any other class of pharmaceuticals
"We are pleased that Wilmington Health has made this commitment to clinical research," said Jennifer Byrne, CEO of PMG Research. "In addition to the impact it will have on the lives of patients in the local community, the vaccine donation through Greater Gift Initiative also allows each employee at Wilmington Health to make a global impact. We are hopeful this encourages both the employees and their patients to more closely consider clinical research."
PMG Research partners with GGI at its ten sites in North Carolina, South Carolina, and Tennessee to donate one vaccine to one child every time one clinical trial participant makes the important decision to volunteer for a clinical trial. And while the emphasis of the vaccine donation at the sites has been on honoring clinical trial participants and improving global health, involvement in GGI is making an important difference inside its partner sites as well. The program reinforces the importance of the work being performed by dedicated researchers, physician investigators, coordinators, and staff. The act of giving instills a sense of pride that they are each making a difference – by helping develop the treatments of tomorrow and advancing global health today, one child at a time. The vision for GGI is to add partners at all levels of the pharmaceutical and clinical trial industry to make the gift of one childhood vaccine for each volunteer the industry-wide standard and be a philanthropic connector by elevating a unified message to the clinical volunteer community that their participation is making a difference in the lives of others. To date, GGI has donated more than 22,500 vaccines in honor of clinical trial participants through its partnerships with clinical trial sites and site networks across the US. Vaccine donations are made through partnerships with The GAVI Alliance and Rotary International's End Polio Now Campaign.
About Greater Gift Initiative, Inc.
The mission of Greater Gift Initiative, Inc. is to advance global health and highlight the greater good of clinical trial participation by gifting a vaccine to a child in honor of every clinical trial volunteer, under the motto "Volunteers Advancing Health." Since 2010, the Greater Gift Initiative has donated over 22,000 vaccines to children in developing countries as a way to give back and thank the volunteers who participate in clinical trials and contribute to the advancement of health worldwide. Learn more at http://www.GreaterGiftInitiative.org.
About PMG Research, Inc.
PMG Research, Inc. is an Integrated Site Network (ISN) of clinical research facilities in the southeast region of the United States with locations in Cary, Charlotte, Hickory, Raleigh, Salisbury, Wilmington, and Winston-Salem, NC; Bristol and Knoxville, TN; and Charleston, SC. We have extensive experience conducting all phases of trials across a comprehensive list of conditions. Since 1979, PMG has conducted over 6,000 research studies for more than 100 pharmaceutical sponsors and CROs. Our progressive organization is comprised of a team of highly effective professionals and a network of specially-designed sites. Our mission as an ISN is to provide unparalleled service to our clinical trial partners. We commit to progress, integrity and excellence. For more information about PMG Research please visit http://www.pmg-research.com.
About Wilmington Health
With a focus on quality, Wilmington Health is leading the way in providing excellent healthcare, reducing costs, and improving the patient experience. Wilmington Health has provided premier healthcare to the residents of Southeastern North Carolina for over 40 years. It is the largest private, fully integrated, multi-specialty medical group practice in the area with over 20 locations (including Convenient Care and Urgent Care). For more information about Wilmington Health, please call 910.341.3300, or visit http://www.wilmingtonhealth.com.
About The GAVI Alliance
GAVI is a public-private global health partnership committed to saving children's lives and protecting people's health by increasing access to immunization in poor countries. Since 2000, GAVI has worked with developing countries to help vaccinate 370 million children and save more than 5.5 million lives. For more information visit http://www.gavialliance.org.
About End Polio Now
Polio is a crippling and potentially fatal disease that can be prevented with a single vaccine, yet the disease is still claiming lives and disabling thousands around the world. Rotary International launched the global fight against polio in 1985 and since then has helped immunize more than 2.5 billion cases. Rotary's effort to rid the world of polio is 99% complete. When successful, this effort will represent only the second time mankind has ever completely eliminated a disease. Help us make history – we are 'this close'! http://www.endpolio.org/