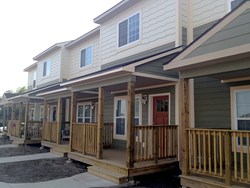 When it comes to filling a housing void in a booming community, time matters.
Troy, Michigan (PRWEB) October 15, 2013
Champion Commercial Structures, a division of Champion Home Builders, Inc., a leading producer of modular and manufactured homes and commercial buildings, today announced that it has been contracted to build two much needed apartment complexes in North Dakota's Bakken oil formation. The projects are near completion and will provide the neighboring communities of Watford City and Williston with over 100 apartments and townhomes.
The developments mark Champion's ninth and tenth projects in Bakken over the last two years.
Developed by Bakken Housing Partners (BHP, LLC), the Wolf Run Village custom townhome project will provide housing for essential personnel in Watford City at an affordable rate, including city and county staff, teachers and emergency responders. The development will include six buildings, each consisting of seven units, for a total of 42 one- and two-bedroom townhomes and apartments.
"At this point in the growth of Watford City and the surrounding area, sustainable community success relies on the availability of people who can provide critical services, such as local government personnel, doctors, educators, fire and police," said Jake Walters, BHP, LLC project manager. "Because of the dramatic increase in housing demand as a result of the Bakken regional oil and natural gas exploration, these vital individuals have been priced out of the market, causing a potential bottleneck in growth of our otherwise thriving community. Local leadership at the city, county and school district level recognized this issue and came together to institute this innovative project. Champion's partnership has provided us with an ability to control our costs, plan on a streamlined, abbreviated timeline and deliver one of the most energy efficient housing solutions available."
Less than 46 miles from Champion's Wolf Run Village project, Champion was also involved in the 72 unit Prairie Vista apartment complex in Williston, N.D. Developed by Bakken 42nd Street, LLC and Hybrid Core Homes, the project will provide rental housing solutions for energy workers and the existing community. Considering the region's extreme climate, the buildings are built to climate zone seven, which includes highly energy efficient insulation and windows. Prairie Vista will include 144 individual bedrooms and sleep a maximum of 288 people.
"While the hard costs of modular construction may be similar to traditional building methods, total building cost is typically less expensive for the customer, and it is always faster, thus providing significant long-term value. And when it comes to filling a housing void in a booming community, time matters," said Phyllis Knight, president, Champion Commercial Structures. "The energy boom across the US and Canada has provided Champion with a significant opportunity to create cost, time and energy efficient housing solutions in very small communities that are struggling to keep up with immediate housing demand increases. We've seen this trend across the Bakken formation in North Dakota and into Canada's Newfoundland and Labrador Provinces. Given this need, North American developers have embraced the modular building method rather quickly, and we at Champion are proud to play our part in that fundamental change in the way we build."
In addition to constructing the modules for its projects, Champion frequently performs additional scopes of work, assuming responsibility from the foundation to completion. By packaging the modular solution with other site trades, Champion offers customers a complete package that allows the company to control both project costs and schedule.
About Champion
Troy, Michigan-based Champion Home Builders, Inc. is the number one brand in off-site residential and commercial construction which, through its operating subsidiaries, manufactures buildings at 30 facilities in North America and the United Kingdom. Champion-built homes are sold through a network of more than 1,000 builders, retailers, and developers located throughout North America. Champion Commercial Structures, a division of Champion, specializes in multifamily, commercial and industrial modular construction serving developers, builders and large value institutional clients. The Champion Commercial Family operates in the US (Champion Commercial Structures), the UK (Caledonian Building Systems) and in Canada (Gibraltar Industries).