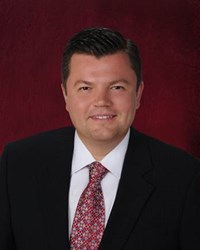 Hollywood, FL (PRWEB) October 15, 2013
Mikhail V. Gaushkin has been promoted to Vice President of Marketing for Seminole Gaming. His appointment was announced by Seminole Gaming COO Larry Mullin.
In his new position, Gaushkin has primary responsibility for marketing, advertising, direct mail and public relations for all gaming and related businesses at the Seminole Hard Rock Hotels & Casinos in Hollywood and Tampa, Fla., as well as five other Seminole casinos in the state. He is also responsible for Seminole Gaming's Revenue Management Department and its Customer Relationship Management (CRM) programs, part of Seminole Gaming's strong focus on improving the customer experience at all of its casino complexes.
Gaushkin joined Seminole Gaming in 2009 as director of database/strategic marketing and has 14 years of gaming industry experience, mostly in Las Vegas, Nev. During his tenure at Seminole Gaming, Gaushkin has been responsible for significant increases in both gross gaming revenue and hotel occupancy, among many other accomplishments.
He previously was senior director of strategic marketing for the Hard Rock Hotel & Casino, Las Vegas. Prior to that, he was director of marketing and revenue management for travel reseller Jetaway.com and Travelworm.com of Las Vegas. He also was direct marketing manager and senior financial analyst for Harrah's Hotel and Casino/Harrah's Louisiana Downs, Shreveport, La. He was slot administration analyst at the MGM Grand Hotel and slots supervisor at the Mirage Hotel & Casino, both in Las Vegas.
Gaushkin grew up in Krasnodar, near Russia's Black Sea resorts, and participated in the "Youth for Understanding" intercultural student exchange program. He resided with a host family in Las Vegas and attended the University of Nevada at Las Vegas (UNLV), graduating with a Bachelor of Science degree in hotel administration.
###