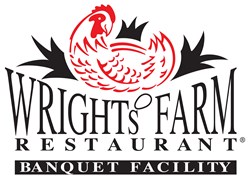 This is a great idea for businesses who want to increase customer traffic and do something positive for the environment. - Frank Galleshaw President and CEO Wright's Farm Restaurant
(PRWEB) October 15, 2013
Motorists who drive electric vehicles now have another option to charge their engines at the newest EV charging station at Wright's Farm Restaurant. The Wright's EV station is located at 84 Inman Road, Harrisville, Rhode Island.
The electric vehicle charging station at the Wright's Farm Restaurant facility is one of 50 scheduled for installation statewide. The sites are chosen because they are publicly recognizable entities and are in proximity to major transportation arteries.
"Wright's Farm Restaurant has always been a destination for Rhode Islanders so it was logical that we were approached to be part of this great program. From a business perspective it's only going to help us to have the station, because now we are also a destination for electric vehicle owners who could use it," said Frank Galleshaw, President and CEO of Wright's Farm Restaurant. "We have noticed more and more electric cars in our parking lots over the weekends. This is a great idea for businesses who want to increase customer traffic and do something positive for the environment."
Rhode Island's Office of Energy Resources awarded a $781,225 contract to site and install the charging stations to ChargePoint, the world's largest network of electric vehicle (EV) charging stations, as part of a national campaign.
The project is funded by federal stimulus money.
"Supporting electric vehicle transportation in Rhode Island will provide a boost to the state economy, saving money on gas and keeping dollars that would have been spent on imported oil here in Rhode Island," said Governor Lincoln D. Chafee. "We are developing a clean and efficient transportation infrastructure for the future, saving taxpayer dollars and reducing greenhouse gas emissions and other air pollutants."
ChargePoint and National Grid are installing the stations, which offer consumers the ability to find and navigate to unoccupied charging stations using online tools and mobile applications. One of the reasons Wright's Farm Restaurant was selected was its easy access to motorist transportation and its status as a well-known family owned business.
"We are thrilled to announce our newest charging station in Rhode Island at Wright's Farm restaurant," said Scott Miller, Vice President of Sales at ChargePoint. "It is imperative that EV charging be available where people live, work, and play. In this case, drivers can fuel-up while dining at one of Rhode Island's classic family-owned restaurants."
"The collaboration between the State of Rhode Island, ChargePoint and National Grid is a great example of a public-private partnership that works for Rhode Island and for the environment," said Edward White, Vice President, Customer and Business Strategy for National Grid. "Plug-in electric vehicles are more than just a new way to get around. They are a major part of a cleaner, more efficient transportation future."
About Wright's Farm Restaurant:
In 1972 Frank and Joyce Galleshaw purchased the Wright's Farm Restaurant facility and grew it to the Rhode Island landmark it is today. Wright's Farm Restaurant offers family-style chicken dinners reflecting their strong commitment to freshness and consistency. The facility boasts seating up to 1,200 persons in six dining rooms; two are available for banquets. There is also a Gift Shop and Toy Store offering an outstanding selection to please everyone. For more information about Wright's Farm Restaurant visit their website at http://www.wrightsfarm.com or call 401-769-2856.