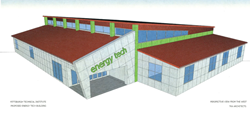 "Our conversations with the region's employers indicate a high demand in Western Pennsylvania for professionals skilled in electronics engineering, welding, and HVAC," said Greg DeFeo, President of PTI.
Pittsburgh, PA (PRWEB) October 18, 2013
KEYNOTE SPEAKERS:
Greg DeFeo, President, Pittsburgh Technical Institute
Dennis Yablonsky, CEO, Allegheny Conference on Community Development
Location: Pittsburgh Technical Institute, North Fayette Campus
1111 McKee Road, Oakdale, PA 15071
Thursday, November 7, 2013 Remarks & Ribbon Cutting Ceremony: 3:00 PM
Pittsburgh Technical Institute will host the grand opening and official ribbon cutting on its new Energy Technology Center, a 15,392-square-foot steel structure that will serve as headquarters for programs in Welding Technology, HVAC Technology, and Oil & Gas Electronics.
PTI's Energy Technology Center, which is located in the eastern quadrant of the college's campus, features general classrooms, faculty offices, meeting rooms, a two-story plaza lobby, a walkway linking the building to the campus' main building and on-campus residence halls and a rain garden located on the building's west side.
PTI students will experience trade-specific, hands-on coursework in each of three dedicated labs with nearly $1 million in state-of-the-industry equipment specific to the welding, HVAC and oil and gas industries.
Earlier this year, PTI announced a new certificate in Welding Technology program and a special Oil and Gas Electronics concentration to its Electronics Engineering Technology associate degree program. The new electronics program is designed to prepare students to meet the demand for midstream industrial and commercial automation technicians created by the exponential growth of the Marcellus and Utica Shale. PTI's is the first associate degree program in the region that concentrates on electronics for the energy sector.
"Our conversations with the region's employers indicate a high demand in Western Pennsylvania for professionals skilled in electronics engineering, welding, and HVAC," said Greg DeFeo, President of PTI. According to DeFeo, industry demand for many types of electronics, pipeline, field service and well site technicians, as well as welders, soldering and brazing workers, machinists, sheet metal workers, structural metal fabricators, boilermakers and pipe and steam fitters led to the creation of these responsive new programs.
On October 15, 2013, PTI welcomes students to the hands-on labs and classrooms for the three programs that are housed in the new Energy Technology Center. Student interest and employer reaction for the new programs have been strong. Enrollment is near capacity for the fall and is building for classes starting in January 2014.
As students begin their career training, the college's Career Services Department, which coordinates industry internships and works with graduates during their job search, has been receiving requests from regional employers for both interns and graduates.
"The region's employers are supportive of these new programs and have both guided curriculum development and contributed significantly to our facilities, especially with donations of equipment," said George Pry, PTI's Executive Vice President. "Companies such as Emerson and Lincoln Electronic have helped us outfit our labs with some of the latest equipment and technologies for training. Their involvement insures that our curriculum provides PTI students with state-of-the-industry knowledge and practical career preparation. More important is the fact that we know our graduates will have the skills our employers need and practice on some of the same equipment that our employers use."
Partnering companies have contributed nearly $750,000 in equipment and supplies to the Energy Technology Center teaching labs. Contributors include:
A-Air, Columbia Gas of Pennsylvania, Copeland Corporation, Emerson Process Management, Equipment and Controls Inc., Fluke Corporation, Forberg Scientific Inc., Johnstone Supply, Lennox, Lincoln Electric, Metro Heating & Cooling, Trane Precisions Laser & Instrument Inc., Premier Heating and Cooling, Trane Corporation and Universal Flow Monitors Inc.
"We're doing everything we can to help accelerate PTI programs. Our company and the entire shale gas industry needs instrument technicians trained on today's technology. Having access to PTI grads will enable us to deliver more and differentiated value to our customers," said Jim Neville, Vice President, Equipment and Controls Inc.
The Energy Technology Center at PTI was designed by Felix A. Cardella, III, of TKA Architects. The general contractor for the $3.5 million project was Franjo Construction.
The building construction project is made possible in part by a $750,000 grant from the Commonwealth of Pennsylvania Redevelopment Assistance Capital Program (RACP) designed for the acquisition and construction of regional economic, cultural, civic and historical improvement projects.
***Tours and on-site interviews before and immediately following the November 7 groundbreaking ceremony available by request: Contact Carrie Butler at 412-897-6177.***
http:// Click for PTI Energy Technology Project Facts at-a-glance.
ABOUT PITTSBURGH TECHNICAL INSTITUTE
Offering career-focused education since 1946, Pittsburgh Technical Institute is a two-year college with a 180-acre campus in North Fayette, west of Pittsburgh. PTI also offers programs through PTI Online and culinary programs through the American Academy of Culinary Arts, AACA.
PTI offers degree and certificate programs in areas such as, Business, Criminal Justice, Hospitality and Culinary Arts, Design, Healthcare, Nursing, Information Technology, Trades Technology, and Energy and Electronics Technology.
PTI students can take advantage of online course offerings, on-campus residence halls, student activities, intramural programs and community service programs.
PTI is accredited by the Middle States Commission on Higher Education.
PTI was recognized by its employees as one of the region's Top Places to Work in a 2013 study commissioned by The Pittsburgh Post-Gazette and is designated a Military Friendly School for the fourth consecutive year.