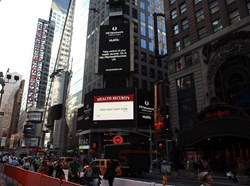 Medical Informatics, Inc. seeks to improve healthcare by improving accessibility to records, improving communications between providers and empowering patients to take care of their own care. - Senator Barbara Mikulski (D-Md)
Rockville, MD and Iowa City, IA (PRWEB) October 16, 2013
Medical Informatics, Inc., a corporation committed to patient-centered technological innovations, and Health Tech Hatch (Hatch), a resource for entrepreneurs who create innovative health and wellness products and services, announced today the launch of the "My Medical Records" Project as a crowd-funding effort on Indiegogo. The grassroots effort's vision of "One Patient | One Number | One Card" aims to unify health records from different providers, irrespective of whether they are paper-based or electronic, and give access to those records to the patients themselves. The "My Medical Records" Project hopes to raise enough money to develop and showcase an open-sourced portal for generating unique identifiers for all patients, using innovative technology combined with a broad-based grassroots support from patients and providers.
Patients should have instant and complete access to all of their own health information all the time. They should be able to use their favorite electronic devices such as smart phones or tablets to securely access their information, in the same way they access their banking or financial records. In this age of computerization, anything else would be archaic like using a paper map or flipping through a phonebook to look up a number. These ideas form the foundation of this initiative.
Designed to bridge the divide between patients and providers and give control of health records back to the patient, the campaign was launched by a group of doctors who joined forces with entrepreneurs, key stakeholders, legislators and other business leaders. The "My Medical Records" Project promises to deliver on open-source software it will use to generate a unique Health Security Number, also known as a unique patient identifier (UPI). Patients will receive a physical Health Security Card imprinted with the UPI that can be used to tag records produced from any service or encounter, data that are then stored on a secure, cloud-based platform.
"We see facilities struggling to improve the interoperability of their existing technology by reaching out to their community providers, but what we don't see is the patient voice in the discussion on how to piece together the fractured landscape of today's medical informatics," said Dr. Steve Behram, President of Medical Informatics, Inc., who is also a practicing OB/GYN and one of the project organizers. "The 'My Medical Records' Project is our attempt to give a voice to the needs of patients in this conversation while supporting a true patient-physician partnership that will result in fewer medical errors, less redundant testing and improved quality of care."
The Project empowers patients with their own Health Security Number, which they can use in every healthcare transaction to generate one continuous unified record accessible by the patient at any time using a smart phone, tablet, Mac or PC. By using this card-based approach, patients can seamlessly move from one provider to another and from one facility to another, and still enjoy a single integrated virtual health record. It's a patient-friendly approach where the health record follows the patient, and not the other way around. This approach also avoids the pitfalls associated with a national identification card or a centralized database of medical record numbers.
This initiative was widely applauded by legislators and key policy makers. "Medical Informatics, Inc. seeks to improve healthcare by improving accessibility to records, improving communications between providers and empowering patients to take care of their own care," said Senator Barbara Mikulski (D-Md).
"I support Medical Informatics' efforts to improve our health care system and ask that its application be given every consideration," said Congressman Chris Van Hollen (D-MD-8).
From now until November 29, 2013, supporters can help fund the campaign through Indiegogo.
About Medical Informatics, Inc.
Medical Informatics, Inc. is a Maryland-based company incorporated in 2003, with the mission to improve healthcare by improving distributed decision-making, eliminating communications barriers between providers and patients, and empowering patients and providers to take advantage of emerging technologies. Additional information about the company can be found at http://www.medicalinformaticsinc.com.
About Health Tech Hatch
Health Tech Hatch ("Hatch") is a platform supporting healthcare innovation via early concept feedback, problem-solving challenges, and crowdfunding. Learn more at http://healthtechhatch.com/.