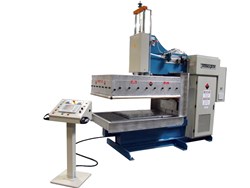 ...manufacturers have been able to broaden their own capabilities and keep operating costs low.
Louisville, KY (PRWEB) October 17, 2013
The nation is seeing a cautious but heartening optimism when it comes to goods production and industrial manufacturing. One sector that serves as a historic icon for American prosperity, automotive manufacturing, is showing growth and innovation as the economy continues to recover. With these developments, there is increased demand for greater efficiency in all aspects of production, whether they are critical engine parts or interior essentials. For manufacturers that are working to keep up with increased demand, and the ever-changing designs and sizes of modern cars, trucks and other vehicles, Thermex Thermatron, LP has developed a larger "Super" C style press that is specifically designed for easier automotive carpet production.
The RF heat system and industrial microwave manufacturer has improved upon traditional RF carpet presses with the expanded capabilities made possible through the "Super" C style press. This press enables manufacturers to create carpets for much larger, multidimensional structures. Automotive manufacturers will find the "Super" C press especially favorable for use in sealing heel pads, toe pads and scuff pads in automotive carpet applications. The versatility of this equipment has saved factory owners the expense of incorporating additional, larger carpet presses to accommodate more dynamically shaped and expansive surfaces. As a result, manufacturers have been able to broaden their own capabilities and keep operating costs low.
"The larger Super C press is a much less expensive alternative to traditional and much larger RF carpet presses," Thermex Thermatron, LP president and CEO, Ray Lund said of the newly developed product. "This has helped our clients lower costs and stay competitive in their abilities." Even as the automotive sector helps to drive the economic recovery, greater productivity and lower labor costs are expected to remain a foremost priority, which may cause some shifts in traditional manufacturing methods and equipment. "A lot of manufacturers are hesitant to go outside of tried and traditional equipment." Ray Lund elaborated, "but we're confident that the benefits of using new equipment like the Super C press will become clear."
About Thermex Thermatron, LP
Thermex Thermatron, LP is a widely recognized and long time producer of industrial microwave ovens, RF presses, heat sealing, welding equipment, as well as other custom manufacturing appliances. In operation for over seventy years, the company continues to develop industrial and commercial solutions that suit today's modern factory and process manufacturing needs. For more information, visit: http://www.thermex-thermatron.com.