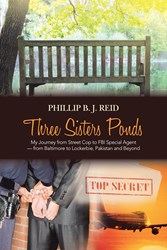 I realized I was on my way to becoming a statistic.
Baltimore, MD (PRWEB) October 17, 2013
According to the National Center for Education, more than 8,000 students drop out of high school everyday. Phillip B.J. Reid was almost one of the many who quit, but instead became one of the FBI's top agents.
Reid started life on the streets of Baltimore battling with dyslexia and struggling to finish high school. One day while sitting on a bench overlooking Three Sisters Ponds in Baltimore's Druid Hill Park, he realized the only way he would escape his troubles was to dedicate himself to getting an education.
Reid uses his place of inspiration as the title of his new book Three Sisters Ponds. The book is an inspirational memoir that recounts Reid's life from the early days in Baltimore to his illustrious career handling sensitive national and international investigations that lead him to becoming an FBI executive.
"I realized I was on my way to becoming a statistic," said Reid "As I looked into law enforcement I became aware that it was not only the perfect job to get me started on the right path, but also left a world of opportunities open for the future."
The book provides an inspirational story, but also reveals a unique inside look at national and international investigations such as an armored car robbery and bombings, including the terrorist bombing of Pan Am flight 103 over Lockerbie, Scotland.
"I firmly believe that it is never too late to get an education," said Reid "It will open your life to possibilities you never imagined."
Three Sisters Ponds
By: Phillip B.J. Reid
SC-ISBN: 978-1-4817-5460-6 ($19.95)
HC-ISBN: 978-1-4817-5459-0 ($28.99)
EB-ISBN: 978-1-4817-5458-3 ($3.99)
Available at Amazon.com
About the author
Reid graduated high school in 1966 and joined the Baltimore Police Department three years later. During his eight years with the BPD he also received his associate's degree in law enforcement and a bachelor's degree in sociology. He then joined the FBI, retiring as an executive in 2005 after nearly 30 years with the bureau.