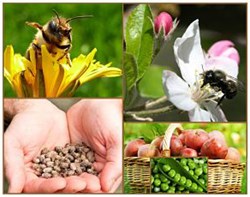 It's a great deal! Gardeners get paid to rehome their excess mason bees. New gardeners get terrific food pollinators. Everyone benefits with more bees to protect our food supply.
Woodinville, WA (PRWEB) October 23, 2013
Crown Bees announces a Bee-Buy-Back program that pays gardeners nationwide for their excess mason bee cocoons. The program answers the call for more mason bees to pollinate next season's garden fruits and vegetables.
"Our Bee-Buy-Back program helps find homes for these terrific, gentle pollinators," said Dave Hunter, Crown Bees founder of a complete line of mason bees and bee-safe products. The company seeks to increase this vital pollinator to supplement the troubled honey bee, and protect our future food supply, both locally and later commercially.
Hunter said gardeners using rarely stinging mason bees generally get healthier garden yields. Healthy gardens also produce more bees. Re-homing excess bees helps other gardeners, and increases the much needed native bee population. Bees pollinate 1/3 of our food supply.
Participating in the Bee-Buy-Back program is very easy for gardeners to do. Just send in cocoons from this year, and select free bee products for next season's pollination. Alternatively, gardeners can choose a cash payment.
Under either payout, only healthy bee cocoons are accepted. Crown Bees inspects all cocoons to ensure that next season's gardeners receive healthy, pest-free bees. The program is currently focused on native blue orchard and hornfaced bees. Recent research shows these bees do well in all USA regions, except Florida and the southeast. These areas of the country are excluded from this program offer.
Find out how to participate in the Bee-Buy-Back program at http://www.crownbees.com/beebuyback. Deadline for participating is December 31, 2013.
While on the website, Hunter encourages gardeners to check out the humorous video on "How Not to Harvest Your Cocoons."
About Crown Bees
Crown Bees, founded in 2008 in Woodinville WA, is a leading native bee pollination company engaged in developing and marketing solitary bees and bee-safe products. Serving the retail and commercial markets, its focus is supplementing the troubled honey bee with efficient, gentle mason bees and other solitary bees for food pollination. Crown Bees partners with the National Garden Clubs, Inc. (NGC), the largest worldwide nonprofit organization of volunteers pursuing gardening best practices and education for a sustainable environment. The Company develops and field tests bee-safe products, is a member of the Orchard Bee Association, and advisor to scientific researchers focused on wild bee identification and developing pollination management practices and ethics. This includes ASPIRE, an offshoot of the Specialty Crop Research Initiative (SCRI) sponsored by the USDA. Crown Bees products are sold in the USA, Canada and Europe.