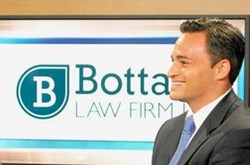 Cranston, RI (PRWEB) October 17, 2013
Metropolitan Casualty Company ("MetLife") has agreed to settle a Rhode Island bad faith complaint filed by Rhode Island personal injury lawyer Mike Bottaro. The settlement will benefit all of MetLife's Rhode Island consumers injured in an auto accident involving another at fault party.
According to Sullivan v. Corio and Metropolitan Casualty Insurance Co., Kent County Superior Court C.A. No. 2013-1092, Attorney Bottaro's client was a Rhode Island resident injured in an auto accident caused by Corio. MetLife issued a RI auto policy to Sullivan whereby, in exchange for Sullivan's premium payment, MetLife provided $2,500.00 in medical payment benefits ("medpay"). These medpay benefits were used by Sullivan to help pay for expenses incurred after the collision, such as hospital and physical therapy bills.
For many years, MetLife had complied with two longstanding Rhode Island Supreme Court decisions, Jennings v. Nationwide Insurance Co., 669 A.2d 534 (R.I. 1996); Costa v. Pawtucket Mut. Ins. Co., 688 A.2d 1286 (R.I. 1997). These decisions hold that an auto medpay insurer shall contribute to expenses for counsel fees and reduce their demand for reimbursement accordingly. In recent years, MetLife began to refuse to acknowledge these decisions in an attempt to squeeze extra profit at its insureds' expense. The cases are consistent with Rhode Island's auto accident statutory scheme, a scheme that does not provide insurers with required personal injury protection ("PIP") benefits or direct action rights against third parties.
According to court documents, in Sullivan's case, MetLife refused to a medpay reduction, even after Attorney Bottaro cited to the above decisions and to Rhode Island's bad faith statue, R.I. Gen.Laws § 9-1-33.
With little choice, Bottaro filed the above bad faith lawsuit against MetLife. Bottaro brought the following claims against MetLife: RI Uniform Declaratory Judgment Act R.I. Gen. Laws § 9-30-1 et seq.; breach of contract; bad faith; Violation of R.I. Gen. Laws § 9-1-33, Insurer's bad faith refusal to pay a claim made under any insurance policy.
"As the deadline approached for MetLife to respond to the Complaint, I received a call from MetLife's medpay manager seeking to resolve the case," said Attorney Mike Bottaro of The Bottaro Law Firm. "Ultimately, MetLife offered a cash settlement, plus an important policy change to conform with Jennings for all its Rhode Island customers."
As a result of the settlement that emerged, MetLife agreed to pay for Sullivan's legal costs and reduce its subrogation claim by 1/3. Additionally, MetLife has indicated that effective immediately, MetLife will offer at least a 1/3 reduction in medpay subrogation claims to all its RI consumers injured in an at-fault auto accident.
"The settlement brings MetLife in line with Rhode Island law on this issue and indeed the practice with virtually all other RI auto insurers that I know of," explained Attorney Bottaro.
About The Bottaro Law Firm
Bottaro Law's Rhode Island personal injury lawyers serve clients throughout Rhode Island and southeastern Massachusetts. The firm's practice areas include general personal injury, car accidents, motorcycle accidents, medical malpractice and more. Injured individuals can request a free consultation by calling 1-866-LAW-9700 or visiting http://www.bottarolaw.com.