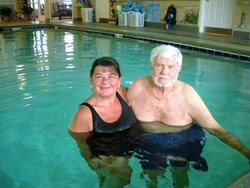 I can't do much, but I do what I can do. I work four days a week.
Myrtle Beach, S.C. (PRWEB) October 17, 2013
Brightwater retirement community is expanding their award-winning WAVES program to all members.
In 2010, Brightwater, Horry County's only Continuing Care Retirement Community, started the WAVES program to provide a person-centered operating initiative in wellness programming for Alzheimer's-care patients who cannot participate in classes for higher-functioning members. The program was recognized with an Assisted Living Federation of America's Best of the Best Award.
Now, Brightwater is looking to utilize WAVES' combination of low-impact, aerobic exercises and the therapeutic benefits of warm, saline water to help alleviate symptoms of any ailment.
Max Cummings, an Independent Living member, suffered a stroke over a year ago. The stroke left him with shattered confidence and difficulty with words. As soon as he was able, he started taking WAVES classes at Brightwater.
Past participants of WAVES have noticed that their increased activity promoted emotional well-being, improved appetite, reduced stress and even helped them rest easier at night. Short-term objectives for the program include improving member engagement and participation while building self-esteem and personal worth. Long term, Brightwater aims to see a reduction in the amount of care members need in their everyday lives. Through the growth of the program, Brightwater hopes that every member can enjoy the numerous benefits.
"The first thing Max wanted to do was get in the pool." Jo Ann Tufo, a life enrichment leader, has worked with Cummings for the past year. The interactions with Tufo have allowed Cummings' speech to progress to the point where he speaks clearly and without hesitation.
One of the key reasons for WAVES' success is the relationship it builds between the member and a caregiver which strengthens the member's confidence and trust.
Tufo jokes, "Max doesn't need me anymore." Cummings has reached the point where he is confident in his movements, but he continues with the one-on-one class to maintain the sureness.
"I can't do much, but I do what I can do. I work four days a week," says Cummings. The hard work has paid off for him. He has surpassed the usual 10 reps per exercise, and now does at least 20. In some cases, he can do 100 sit and stand movements in the pool.
The Brightwater team is very supportive of expanding WAVES. Executive Director Jimmy Justice and Healthcare Administrator Marcel Tremble often bring their bathing suits to join Cummings and other members for their class. Tufo adds, "I think everyone could benefit from WAVES."
The National Stroke Association reports that only 10% of stroke survivors fully recover. With hard work and a dedicated Brightwater staff, Cummings is on his way to being in that small percentage.
Brightwater is excited to help many more members in the future through the WAVES program.
About Brightwater
Located on 60 acres in Myrtle Beach, S.C., Brightwater is an all-inclusive, luxury retirement community surrounded by the Carolina Bay Preserve and the Lewis Ocean Bay Tract, both protected natural areas that will remain undeveloped. The community's care-free lifestyle helps members live longer, healthier and happier lives by offering an array of amenities including maintenance-free living, daily fine dining, weekly housekeeping, a nationally recognized wellness program and continuing-care health services. Brightwater offers a variety of floor plans including single-family cottage homes and condominium-style villas. Assisted-living, memory-care and skilled-nursing rooms are also available for those who need to make a transition from independent living. More information about Brightwater is located at http://www.Brightwater-Living.com.