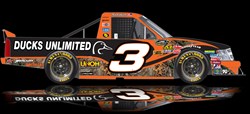 Memphis, TN (PRWEB) October 16, 2013
The Ducks Unlimited (DU) logo will reach high speeds once again this weekend during the NASCAR Camping World Truck Series race thanks to a generous partnership with Bass Pro Shops. The DU logo wrap will appear on Ty Dillon's No. 3 Bass Pro Shops/Ducks Unlimited Chevrolet truck during the Fred's 250 at Talladega Superspeedway on Oct. 19.
"Thanks to Johnny Morris and his staff at Bass Pro Shops, this will be the second time this year that DU will be featured on a NASCAR vehicle," said DU CEO Dale Hall. "Tony Stewart finished a close second in the Daytona race, and I can't wait to see how Ty Dillon fares at Talladega."
Weekend festivities in Talladega are slated to begin at 1 p.m. on Oct. 19 with the NASCAR truck series race.
Saturday's race also falls in the middle of DU Month at Bass Pro Shops stores across the U.S. and Canada. Throughout October, Bass Pro Shops will offer customers the opportunity to donate $2 to Ducks Unlimited and enter for a chance to win one of 10 Bass Pro Shops' $500 gift cards.
"DU Month is but one more way Bass Pro Shops supports conservation and the Ducks Unlimited mission," Hall said. "Johnny Morris' generosity has put DU in front of tens of thousands of outdoors men and women across the country, and the fact that Bass Pro is such a strong supporter of DU's mission speaks volumes about the company and their commitment to conservation."
For ticket information, visit talladegasuperspeedway.com.
About Ducks Unlimited
Ducks Unlimited Inc. is the world's largest non-profit organization dedicated to conserving North America's continually disappearing waterfowl habitats. Established in 1937, Ducks Unlimited has conserved more than 13 million acres thanks to contributions from more than a million supporters across the continent. Guided by science and dedicated to program efficiency, DU works toward the vision of wetlands sufficient to fill the skies with waterfowl today, tomorrow and forever. For more information on our work, visit http://www.ducks.org. Connect with us on our Facebook page at facebook.com/DucksUnlimited, follow our tweets at twitter.com/DucksUnlimited and watch DU videos at youtube.com/DucksUnlimitedInc.
About Bass Pro Shops
Bass Pro Shops, which specializes in outdoor fun, operates 79 retail stores and Tracker Marine Centers across America and Canada that are visited by more than 116 million people every year. Bass Pro Shops' stores, many of which feature restaurants, offer hunting, fishing, camping and other outdoor gear while their catalogs and website serve shoppers throughout the world. The company's Tracker Marine Group (trackermarine.com/), which has produced the number one selling brand of fishing boats for more than 35 years, manufactures and sells a variety of boats for fishing and cruising. Family fun is on tap at Bass Pro Shops' resort Big Cedar Lodge (bigcedar.com/) voted number six by Travel + Leisure Magazine as World's Best Hotels for Families. For more information, visit http://www.basspro.com/. To request a free catalog, call 1-800-BASS PRO. Follow us on Facebook at facebook.com/bassproshops.