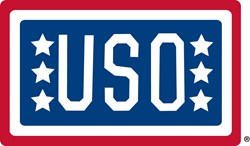 'I've missed a lot of life moments during my baseball career, but it doesn't compare to the sacrifices made by our troops and their families.' - Randy Johnson
(PRWEB) October 15, 2013
Twitter Pitch: @RJ51Photos headed on 5th @the_USO tour to Cuba.
WHAT: USO tour featuring baseball legend Randy Johnson
WHEN: Oct. 19 – 21, 2013
WHERE: Guantanamo Bay, Cuba
WHY: Nearly a week away from Game 1 of the World Series and legendary pitcher Randy Johnson doesn't have the same concerns he had during his 22 seasons in Major League Baseball. He isn't worried about his pitching record or if his team will make it to the big game. Instead, he's about to head out on his fifth USO tour, to extend America's thanks to our troops and military families serving overseas. Johnson, who is no stranger to traveling to the remote places our troops serve, will be making his first USO trip to Guantanamo Bay, Cuba.
During his 26-year Major League Baseball career, the record-setting athlete has racked up some pretty impressive stats: 4,875 strikeouts, 303 wins and five CY Young awards –awarded annually to the best pitchers in the League. Equally as impressive is Johnson's dedication to supporting our troops and military families. Since his first USO tour in 2010, he has participated in 40 USO events and lifted the spirits of more than 18,000 troops and military families serving in locations around the world, including Afghanistan, Bahrain, Djibouti, Germany, Iraq, Italy, Japan, Kuwait, Okinawa, among other various locations in the Middle East as well as troops serving onboard the USS Enterprise.
Johnson currently pursues a career in photojournalism and has worked with world-renowned acts such as U2, KISS and Metallica, to name a few.
QUOTE:
Attributed to Randy Johnson:
"I missed a lot of life moments during my baseball career, but it doesn't compare to the sacrifices made daily by our troops and their families. I'm grateful to be able to give back, through my USO tours, to the men and women who serve our country and the families they often leave behind."
For more than 70 years the USO has been by the side of our troops and their families. To learn more about the USO and how you can help, visit uso.org.
About the USO
The USO lifts the spirits of America's troops and their families millions of times each year at hundreds of places worldwide. We provide a touch of home through centers at airports and military bases in the U.S. and abroad, top quality entertainment and innovative programs and services. We also provide critical support to those who need us most, including forward-deployed troops, military families, wounded warriors and families of the fallen. The USO is a private, non-profit organization, not a government agency. Our programs and services are made possible by the American people, support of our corporate partners and the dedication of our volunteers and staff.
In addition to individual donors and corporate sponsors, the USO is supported by President's Circle Partners: American Airlines, AT&T, Clear Channel, The Coca-Cola Company, Grand Canyon University, jcpenney, Jeep, Kangaroo Express, Kroger, Lowe's, Northrop Grumman Corporation, Procter & Gamble and TriWest Healthcare Alliance and Worldwide Strategic Partners: BAE Systems, The Boeing Company, Lockheed Martin, Microsoft Corporation and TKS Telepost Kabel-Service Kaiserslautern GmbH & Co. KG. We are also supported through the United Way and Combined Federal Campaign (CFC-11381). To join us in this patriotic mission, and to learn more about the USO, please visit uso.org.
###