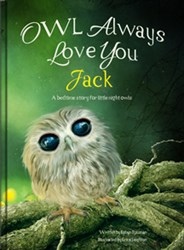 "We have always been very proud to work with Robyn and her work is stunning and evocative, providing great encouragement to children to learn as well as delivering a really positive message."-Margo Redfern, CEO, Flattenme.com
Los Gatos, CA (PRWEB) October 15, 2013
Robyn Spizman, author of one of Flattenme's bestselling books, 'Owl Always Love You', is on TV show Atlanta & Co to talk about the benefits the bedtime book designed for 'little night owls'.
After being heavily featured for decades on NBC as a New York Times Bestselling Author and gift expert, Robyn promotes the importance of teaching children how to learn to love reading and learning, using Flattenme's personalized book range as a springboard to do so.
'Owl Always Love You' is a custom book created for reading at bedtime and is an affirmation to the child of just how much he or she is truly loved by their parents, allowing them to fall asleep feeling content and secure within themselves.
Following the journey of an owl traveling through different scenarios, the book is also customized with the child's name, leading them to believe that the story is created entirely for them. When the child becomes too old for the book, it can then be kept as a wonderful childhood keepsake.
Robyn uses her creative mind and fun ideas in order to encourage children with the inspiration to read, making it a fun and enjoyable pastime that is never a chore. The story Robyn created for Flattenme leaves a lasting and meaningful impression on the child whilst using beautiful illustrations that help to illustrate the message further.
Flattenme specializes in creating books, water bottles, shirts, wall art and cards that are personalized to each individual child, encouraging them to express themselves through the power of imagination and reading.
On Atlanta & Co., Robyn also encourages the love of reading by sharing some top tips about getting your child ready to read, such as personalizing the book to create a lasting keepsake, making books age appropriate and most importantly, starting a routine from a young age.
Flattenme CEO Margo Redfern said: "We are delighted that Robyn is featured on Atlanta & Co to help promote 'Owl Always Love You', as well as the importance of encouraging children to read.
"We have always been very proud to work with Robyn and her work is stunning and evocative, providing great encouragement to children to learn as well as delivering a really positive message."