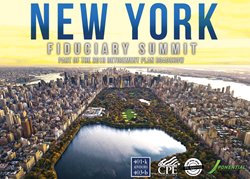 This summit will focus on three key areas which are currently under extreme scrutiny – plan fees, target date funds, and stable value offerings.
(PRWEB) October 17, 2013
Coming soon to the Yale Club, the 2013 New York Fiduciary Summit invites proactive retirement plan sponsors, human resources/finance executives, trustees and business owners from the greater New York Area to listen in and share thoughts on key issues impacting all employee retirement plans. The 2013 New York Fiduciary Summit is part of the national Retirement Plan Roadshow and is one of the nation's top educational events featuring local and national expertise and diverse plan sponsors discussing best practices and evaluation strategies
Mike Falcone, Senior Plan Consultant and Managing Director of 401(k) Advisors-East Region, reiterates, "In today's litigious environment, carrying out one's fiduciary responsibilities in a prudent and well-documented manner is as critical as ever before. This summit will focus on three key areas which are currently under extreme scrutiny – plan fees, target date funds, and stable value offerings – and will offer practical approaches to follow to ensure you are meeting your fiduciary obligation, and ultimately doing things with the best interests of your plan's participants and beneficiaries in mind." Falcone will be leading the discussions as the event's keynote speaker. Alongside Falcone, XGS and 401(k) Advisors have put together two panels featuring the leading portfolio managers from American Century, BlackRock, Franklin Templeton, and J.P. Morgan to discuss Target Date funds and from, New York Life, PIMCO, and Prudential to discuss Stable Value Funds.
The summit will also feature special guest speaker Bradford Campbell - Former Head of the Employee Benefits Securities Administration (EBSA). Brad is a nationally-recognized figure in employer-sponsored retirement, health and other welfare benefit plans. During his years in government, he played a key role in every significant ERISA retirement and health reform of the prior decade, and his regulatory and policy decisions had a fundamental impact on the structure and operation of ERISA plans.
The 2013 New York Fiduciary Summit will be the 15th stop of the Retirement Plan Roadshow and will be held at the Yale Club on October 30, 2013 from 11:30 AM to 2:30 PM (Lunch will be served). The 2013 New York Fiduciary Summit is approved for 3 CPE/CPA Credits and 2.5 HRCI/SPHR/PHR/GPHR General Credits. Seating is limited and local plan sponsors will receive priority registration. Additional details and registration information can be found here.
About 401(k) Advisors
401(k) Advisors provides independent retirement plan consulting services to major and mid-sized private and institutional plan sponsors, and currently oversees over $24 billion in assets under advisement. The firm is recognized for best practices in retirement planning, investment due diligence, vendor searches and fee benchmarking, compliance processes, and education for sponsors and participants.
http://www.401kadvisors.com
About Xponential Growth Solutions
Xponential Growth Solutions (XGS) unites 401(k), 403(b) and retirement plan sponsors with elite resources and exclusive connections. Through research, fiduciary summits, and industry expertise, they help the nation's retirement plan sponsors, fiduciaries, and trustees evaluate their plan and navigate the retirement plan industry. Working to help America reach their retirement goals one retirement plan at a time, XGS also founded the Retirement Plan Roadshow, a national series of fiduciary educational summits dedicated to human resources, finance and business professionals in charge of America's 401(k), 403(b), and retirement plans.