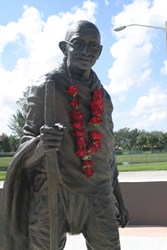 "Matt turned out to be an inspired choice; Abdul Kalam said it was one of the best statues of the Mahatma that he had seen."
Provo, UT (PRWEB) October 17, 2013
October 2nd marks the 144th birth anniversary of Mahatma Gandhi and the 1st anniversary of the seven foot bronze statue created in his honor and placed in a memorial park in Davie, Florida.
Big Statues, located in Provo, Utah, began working on the sculpture after being contacted by Dr. Sajan Kurian, a member of the Kerala Samajam of South Florida group.
The statue, the only one in Florida and one of only seven in the nation, is part of the Gandhi Square Memorial Park that covers over 50 acres of land. The park includes symbolic patterned stepping stones and lighted stone pillars representing a "pathway of light" leading to the parks focal point, the bronze Gandhi sculpture.
Matt Glenn, bronze sculptor at Big Statues, says the project is one of the most memorable statues he has created. "This statue was such an important part of a culture focused on peace," he said. "It was vital to me to make sure the sculpture was absolutely perfect and true to life in every way."
The sculpture took roughly six months to sculpt, with the final product standing at 7-feet tall and weighing roughly 800 pounds. Glenn began creating the statue with detailed images of Gandhi, and then brought those images to life through hand sculpting the clay.
Once the clay sculpture was complete, a silicone mold was applied to the statue. The mold was then taken to a local foundry where workers spent eight weeks pouring and welding the bronze before adding the final patina and wax coating.
The Kerala Samajam of South Florida originally contacted several other sculptors before turning to Big Statues for help with the project.
Joy Kuttiyani, former president of Kerala Samajam of South Florida and project coordinator, said, "Matt turned out to be an inspired choice; Abdul Kalam said it was one of the best statues of the Mahatma that he had seen."
One year after the original dedication of the statue, the Mahatma Gandhi Square Florida Inc. group is now focused on increasing Gandhi's profile even further in the country, said Shekhar Reddy, another trustee. "We are currently having discussions with the school boards in Broward and Miami Dade [Florida] to sanction field trips of students to the park. We want to make it a true destination point."
Big Statues will be celebrating the life and landmarks of Mahatma Gandhi this month by offering additional information about Mahatma Gandhi on their website.
For more information about Big Statues, and the custom bronze sculptures of Matt Glenn, visit http://www.bigstatues.com.
###