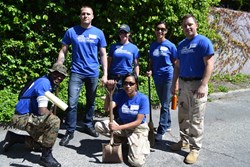 "Each veteran who volunteers with The Mission Continues is driven to serve others," said Spencer Kympton, president of The Mission Continues. "With the support of communities like Houston, we can empower veterans to have a positive impact here at home."
Houston, TX (PRWEB) October 16, 2013
Veterans from across the country are reporting for duty in Houston to begin the next chapter of serving their country: leading their communities at home. More than 80 post-9/11 veterans will gather in Houston October 25-27, for a weekend of leadership training and community service as part of orientation with The Mission Continues, a national nonprofit organization that empowers veterans to serve their country in new ways. These latest recruits will join more than 700 other post-9/11 veterans who have worked with The Mission Continues to navigate the transition to post-military life by reconnecting to their communities and their sense of purpose through volunteerism.
Houston Mayor Annise Parker will open the weekend of training and volunteerism, known as Delta Orientation, with a special welcome for the new veteran recruits. Houston residents can join The Mission Continues in action volunteering at Cristo Rey Jesuit College Preparatory School of Houston on Saturday, Oct. 26 and also witness all 80+ veterans pledging an oath of service to the community before each returns home to spend the next six months volunteering with local nonprofits.
"Each veteran who volunteers with The Mission Continues is driven to serve others," said Spencer Kympton, U.S. Army veteran and president of The Mission Continues. "With the support of engaged communities like Houston, we can empower veterans to have a positive impact here at home."
Continuing to Serve at Home
As part of Delta Orientation, the new veteran recruits and Houston-area alumni of the program will team up with volunteers from Shell and Boeing, as well as project sponsor Benjamin Moore Paints to transform the campus of Cristo Rey Jesuit College Preparatory School. The volunteers will rebuild the school's bleachers, plant new gardens and landscape grounds, and remove an outdated performance stage. The site improvements will support the school in its mission to empower students of all backgrounds to reach their full potential.
"The Mission Continues' veterans are living examples for our students that leadership, determination, and service to others offer a path to empowerment and success," said Mr. Dan Walsh, Interim President, Cristo Rey Jesuit. "We're excited and truly honored to welcome The Mission Continues to the Houston community."
Kindling a Life-Long Spirit of Service
Through their service experience in Houston and throughout their six-month fellowships at home, veterans learn to translate military abilities into civilian skills, gaining valuable work experience and pursuing a defined post-fellowship goal: full-time employment, pursuit of higher education or a full-time position of community service.
Additionally, The Mission Continues is launching a Houston-based veterans' service platoon led by fellowship alumnus Brian Wilson. Wilson, a former U.S. Army medic, spent his fellowship volunteering with the Lone Star Veterans Association as the Communications Director and has since enrolled as a full-time student pursuing a degree in communications. As Houston platoon leader, he'll recruit local veterans to support a mission addressing community challenges in the Houston area through monthly organized service events.
"My fellowship helped me reconnect to that same fire and passion that I felt while serving my country and I want to make sure other veterans have a chance to experience that – even if just for a weekend," said Wilson. "We're excited to start recruiting and identifying a long-term mission that will make a difference to people in Houston."
Media Opportunities:
Film/Photography:

80+ veterans lined up at attention, pledging to serve the community
The Mission Continues Fellows and volunteers renovating Cristo Rey Jesuit school
Interviews:

80+ The Mission Continues fellows (representing all 5 military branches)
Meredith Knopp, Vice President of Programs, for The Mission Continues
Brian Wilson, The Mission Continues Houston Platoon Leader
Dan Walsh, Interim President, Cristo Rey Jesuit school
About The Mission Continues
The Mission Continues is a national nonprofit organization that empowers veterans to serve their country in new ways through two innovative and action-oriented programs. The first, The Mission Continues Fellowship harnesses veterans' strengths, skills and compassion and empowers them to serve in their community on a daily basis over the course of six months. The second, The Mission Continues Service Platoons brings together teams of veterans with local community organizations and volunteers to build stronger communities. The Mission Continues has helped thousands of post-9/11 veterans focus their talents and energy to tackle challenges facing us right here at home. Through a unique model that provides reciprocal benefit for the veteran and the local community, veterans volunteer to help others and, through their service, build new skills that help them launch their civilian career. To learn more, visit: http://www.missioncontinues.org or follow us on Twitter @missioncontinue.
About Cristo Rey:
Cristo Rey Jesuit, a Catholic high school, combines personal responsibility, academic rigor, and a corporate work-study program to empower students of all faiths from economically challenged families to reach their full potential. The school opened its doors in August 2009 in the Southeast Houston. This year, Cristo Rey Jesuit welcomed 460 freshmen, sophomore, junior and senior students from the local neighborhood, as well as outer-lying low-income areas. All students participate in the Corporate Work-Study Program where four students share one entry-level position at corporations across the city. This program will pay for more than 50% of the cost to educate each student. Every student works one full workday and attends school four long days per week. Cristo Rey Jesuit is part of a larger network of 26 schools across the nation. With Cristo Rey Jesuit's inaugural graduating class in June 2013, 100% of them were accepted into college. Please visit http://www.cristoreyjesuit.org for more information.