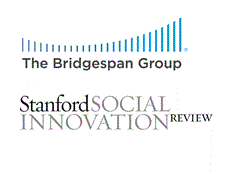 This initiative offers inspiration to funders by highlighting creative ways leading philanthropists and foundation executives are responding to the uncertain economic and political situation.
Boston, MA (PRWEB) October 16, 2013
The Bridgespan Group and Stanford Social Innovation Review today announced the launch of their joint Giving that Gets Results series, an 8-week online offering of blogs, Q&A's, webinars and videos published on ssireview.org that will feature some of the best thinking on philanthropy adapted for uncertain times.
According to Susan Wolf Ditkoff, Partner and Co-head of Bridgespan's philanthropy practice, "Funders are deeply concerned about the political stalemate and jobless recovery—and the implications of these new trends on the social changes they are trying to create. This initiative offers inspiration to funders—during the giving season, and in the run up to #GivingTuesday on December 3—by highlighting creative ways leading philanthropists and foundation executives are responding to the uncertain economic and political situation, staying true to a strategic direction but learning from what's working and adapting their strategies based on data."
The series' contributors will include well-known philanthropists such as Jean Case, Marc Benioff, Pierre Omidyar and Mario Marino, as well as the heads of foundations such as the Gordon and Betty Moore Foundation, and corporate givers like Google. The initiative will focus on key questions such as:

How are philanthropists adapting their giving?
What strategies and approaches have changed and why?
What innovations and trends are most exciting or most worrisome?
How can we think about measuring success and incorporating learning to make philanthropy more effective?
The project will also produce two webinars, sponsored by the William and Flora Hewlett Foundation. The first, Adaptive Philanthropy: Getting Results in Uncertain Environments will be held on October 17 at 11 a.m. PDT, 2 p.m. EDT, register here. Moderated by Susan Wolf Ditkoff, the webinar will feature Steve McCormick, President of the Gordon and Betty Moore Foundation, Jenny Shilling Stein, Managing Director and Co-founder of Draper Richards Kaplan Foundation and Jeff Walker, Vice Chairman, United Nations Envoy's Office for Health Finance and Malaria; Co-founder and former CEO, JPMorgan Partners and co-author of The Generosity Network.
Interested parties can also sign up to receive updates on new blogs, videos and webinars: here.
Eric Nee, Managing Editor at SSIR, adds: "This series will create a permanent collection of insights from people at the vanguard of giving, and will help us to equip and motivate a cadre of funders who are more innovative and strategic with their giving."
The initiative will also include reader surveys to better understand the influence of the content on their giving decisions.
About The Bridgespan Group
The Bridgespan Group (http://www.bridgespan.org) is a nonprofit advisor and resource for mission-driven organizations and philanthropists. We collaborate with social sector leaders to help scale impact, build leadership, advance philanthropic effectiveness and accelerate learning. We work on issues related to society's most important challenges and to break cycles of intergenerational poverty. Our services include strategy consulting, leadership development, philanthropy advising, and developing and sharing practical insights.
About Stanford Social Innovation Review
Stanford Social Innovation Review is an award-winning magazine and website that covers cross-sector solutions to global problems. SSIR is written for and by social change leaders in the nonprofit, business, and government sectors who view collaboration as key to solving environmental, social, and economic justice issues. Published at the Stanford Center on Philanthropy and Civil Society, SSIR bridges academic theory and practice with ideas about achieving social change. Its aim is both to inform and to inspire. http://www.ssireview.org