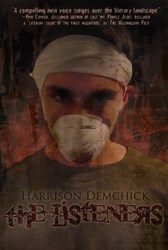 Benjamin Kane Ethridge declared it 'a novel that really shouldn't be missed.'
Baltimore, MD (PRWEB) October 25, 2013
When the hardcover version of Baltimore author Harrison Demchick's "The Listeners" launched at Ukazoo Books in December of last year, it turned out to be the biggest event in the history of the store.
Barnes & Noble Booksellers at the Avenue in White Marsh, MD is hoping for similar results from the debut of the paperback edition on Saturday, October 26—just in time for Halloween.
"The response to The Listeners these past several months has been amazing," says Demchick, who will be signing books at the Halloween event. "I'm thrilled to be able to present my book in paperback, and I'm very grateful to Barnes & Noble for hosting me."
In the months since the initial release, critical reaction has been tremendous, with readers as far away as New Zealand calling The Listeners one of the best horror novels ever written.
In Booklist, Daniel Kraus, Rotters author and Bram Stoker Award finalist, drew favorable comparisons to Max Brooks's bestselling novel (and recent hit film) World War Z, adding that, with "evocative nonlinear prose, Demchick's depth of focus is both confident and impressive."
Publishers Weekly described The Listeners as "admirably ambitious," Bram Stoker Award winner Benjamin Kane Ethridge declared it "a novel that really shouldn't be missed," and Jeffrey Reddick, creator of the Final Destination film series, called it "a terrifying allegory of the times we live in."
It was Bruce Bortz, the publisher of The Listeners, who determined that this was the time to launch the paperback. "The Listeners is one of the best novels I've ever published," says Bortz, whose Bancroft Press has been in operation for more than twenty years. "And with the launch of the paperback, we have the opportunity to find it a whole new audience."
It's that new audience—and those who have already read The Listeners as well—who are invited to the White Marsh Barnes & Noble this Saturday.
"My most recent signings have been in Pennsylvania and New York," says Demchick. "But for Halloween, and for this launch, I'm happy to be home."
Demchick will be signing books October 26 from 1 to 4 p.m. The White Marsh Barnes & Noble is located at 8123 Honeygo Boulevard, Suite E, Baltimore, MD 21236.
The paperback, hardcover, and ebook versions of The Listeners are also available online at Barnes & Noble, Amazon, and wherever books are sold.