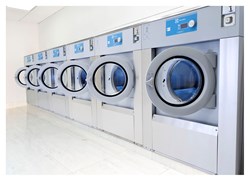 Electrolux invests significantly into sustainable product development leading to exceptional professional laundry solutions that are environmentally friendly and save our customers up to 70 percent on utilities.
(PRWEB) October 16, 2013
Electrolux Professional Laundry recently announced that its range of High Spin Washers which have earned Energy Star ratings has now been increased to include washers up to 45 lb. capacity.
Energy Star is a joint program of the U.S. Environmental Protection Agency (EPA) and the U.S. Department of Energy (DOE). Established in 1992 to help save money and protect the environment it provides customers with guidelines on energy efficient products and practices. The strict conditions that a product must fulfill before qualifying for the government-backed label are reliable insurance that the product contributes significant measurable energy savings.
Reducing energy consumption and pollution while strengthening the economy are compelling ambitions of the Energy Star program. By producing equipment that fulfills all the Energy Star specifications, Electrolux Professional meets these ambitions and is therefore not only passing energy savings on to its customers but also actively taking part in reducing greenhouse gas emission thus contributing to important health and environmental benefits on a global scale.
Smart, green and economical
The Electrolux High Spin Washers (H series) have been shaped with contributions from users and experts in the professional laundry field all over the world. Their insights and know-how helped drive improvements in laundry equipment mechanics, ergonomics and design all the while ensuring energy-efficiency and sustainability.
"We are very proud that now an even larger range of our laundry equipment solutions is part of the Energy Star® program" says Esther Staskiewicz, Head of marketing at Electrolux Professional (Business Unit Laundry Systems). "As part of our company philosophy, Electrolux invests significantly into sustainable product development leading to exceptional professional laundry solutions that are environmentally friendly and save our customers up to 70 percent on utilities."
Electrolux's High Spin professional washers combine technology with green thinking and low running costs. Durability, robust construction, and high performance set the machines apart. They are designed to respect the environment at every point of production usage and disposal. Products are built to be 95% recyclable. All of these factors exemplify Electrolux Professional's commitment to continued sustainability.
Electrolux H-series provides your laundry with real savings and improvements in three crucial areas: time savings, enhanced economics, and flexibility.

Time savings: Electrolux's High Spin Washer can complete a wash and dry cycle in less than 50 minutes without compromising the quality of the wash results. Coin laundry customers appreciate the time savings and superior results, coin laundry owners have the ability to serve more customers and generate more business, and on-premises laundry operators save time and money while increasing production.
Economy: Its unique efficiency means using less water and energy for wash and dry cycles. This can help lower laundry operational costs by up to 70 percent while cutting the environmental footprint. Automatic Water Savings (AWS), unique to Electrolux Professional washers, adjusts the water level to the weight of the laundry, meaning up to 30% in water savings for half load, as well as energy savings since less water needs to be heated. Another unique Electrolux feature, Eco Power for dryers, measures when garments are dry and automatically turns the heat down to the cool-down temperature, resulting in up to 15% in energy savings. In addition, Electrolux Professional dryers come standard with reversing cylinders which also speeds up the drying process, saving time and energy.
Maximum flexibility: Ergonomics, performance, safety, and labor effectiveness are key factors in Electrolux designs. The user-friendly Compass Pro® interface is intuitive, intelligent as well as easy to use, and available in 20+ languages. Compass Pro® is the intelligence inside the H-series washers that enable Electrolux to provide customized laundry solutions for every kind of business including vended / coin laundries, hotels, hospitals, firehouses, schools, nursing homes, restaurants, sports teams, and more. There are up to 55 programs available, of which 15 are customizable. The Compass Pro® interface also features a USB port to facilitate installation of the latest software updates and a real-time clock for time of day pricing or delayed start (Smart Start).
Additional information
Electrolux Professional is a leading global supplier to the hospitality, healthcare, and vended / coin laundry industries providing professional kitchen and laundry equipment solutions. With the most comprehensive range of machines for food preparation and preservation, dishwashing, and professional laundry systems, Electrolux is a brand synonymous with reliability, innovation and sustainability. It has 90 years of experience and a portfolio of products designed according to the strictest quality, safety and sustainability standards. Electrolux Professional is recognized worldwide for its social and environmental performance and its product lines meet and exceed international standards. In 2012 Electrolux Professional had sales of about $900 million, approximately 2,600 employees, 7 factories, over 1,000 distributors and almost 2,000 service partners located in more than 70 countries. For more information, visit the web site: http://www.electrolux.com/professional.