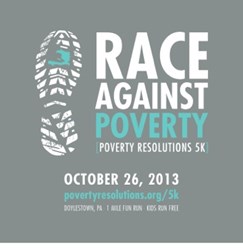 Doylestown, PA (PRWEB) October 15, 2013
Poverty Resolutions, a non-profit organization based out of Doylestown, PA, is hosting the 2nd annual 5K Race Against Poverty. The vision and mission behind Poverty Resolutions is to eradicate poverty in countries like Haiti where 54% of the people live on less than one dollar a day. Sometimes it is hard to fathom this level of poverty and the daily struggles of trying to earn money, find food, and provide for a family.
Please consider participating in this event on Saturday, October 26, at 9 am by signing up at http://www.povertyresolutions.org\5k. Those who sign up early get a free tee shirt. There is a one mile fun walk available for those not interested in running. Any child under the age of 12 can walk or run for free. Also available are family activities including face painting, a moon bounce, games, and food. Also at the park is the infamous "kid's castle" which is a large, castle-like park where kids can play in multiple levels of wooden twists, turns, and tunnels.
Find out more about this organization and the 28-day journey of 4 men who went to Haiti and lived on a dollar a day by visiting their website or YouTube channel to check out videos, stories, pictures, and more.