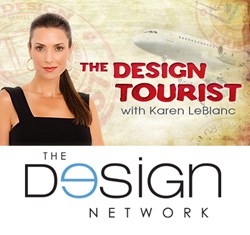 Karen is providing our TDN community exclusive access to the most influential tastemakers and industry events that set the course for upcoming trends and new products for the home.
Jamestown, NC (PRWEB) October 16, 2013
The Design Network is proud to announce the addition of the globally inspired, new video series 'The Design Tourist,' launching on TDN October 16, 2013 and hosted by Karen LeBlanc.
Unlike the typical tourist, Karen LeBlanc travels the world in search of original design finds in each episode of 'The Design Tourist.' Attending a myriad of design, décor and home fashion trade shows and events, she meets brilliant design minds and explores the links between culture and creativity. Karen takes her viewers on a journey that will entertain, inform and captivate any home enthusiast, culminating in a global dose of design inspiration.
Karen LeBlanc is a talented design writer, blogger and host— a trusted voice and resource in the worlds of design, décor and construction. Her blog HouseSpiration.com and her contributions as a design writer for magazines and the website Houzz track the latest trends, tastemakers and design minds around the world. Karen is also the host and producer of the home construction series 'Trade Secrets' and has appeared in numerous TV commercials as an established TV actress and spokesperson. Her journalism background dates back to her days as a TV news anchor and reporter, a career that took her to Mexico and eventually to Florida.
"The concept for Karen's series was immediately compelling to me," says TDN Founder Jason Harris. "She's lifting the veil on the world of home fashion and design and taking her audience to trade shows and events that, oftentimes, only industry insiders get to see. Karen is providing our TDN community exclusive access to the most influential tastemakers and industry events that set the course for upcoming trends and new products for the home. She's kicking off her series in London, and we can't wait to see where she goes next!"
About The Design Network:
Launched in January 2013 by home furnishings industry veterans Jason and Jeff Harris, The Design Network is a broadband, all-screens network that aligns the best designers, architects, furniture purveyors, video producers and home enthusiasts to offer inspirational, instructional and entertaining videos about home design and fashion. By serving on-demand content in a new, relevant and fresh way, and reaching home enthusiasts through a multitude of screens, anywhere at any time, the Design Network is an entertaining resource for design inspiration, expert advice and product information, as well as a growing, vibrant community built on a shared passion for all things "home."