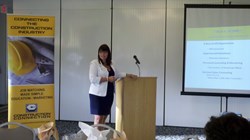 Kent [Leighton] and I are very passionate about helping other people in the construction community. We've both been in construction for many years, and we know the opportunities and challenges that are unique to our industry.
Miami, FL (PRWEB) October 17, 2013
Co-Founder of ConstructionConnection.com Suzanne Breistol is extending the brand's reach by working with construction industry professionals offline facilitating a series of workshops through SCORE Miami-Dade. The company's foundation is their website, which gives individuals and companies across the construction industry a place to find construction jobs, employees and a wealth of other industry-specific resources. But Breistol and her Co-Founder Kent Leighton are dedicated to going the extra mile to help construction professionals. This fall, Breistol, a long-time veteran of the construction industry and business consultant, is talking to construction company owners in South Florida about ways to improve their businesses and make better hiring decisions.
"Kent [Leighton] and I are very passionate about helping other people in the construction community," says Breistol. "We've both been in construction for many years, and we know the opportunities and challenges that are unique to our industry. Small to mid-size construction company owners and managers tend to be antiquated due to the painful steps to making a change. Kent and I work with them through the process with small measurable steps showing the value of each change along the way."
At last month's workshop, Breistol focused on recruiting, hiring and retention. She covered in detail the key to finding and keeping a high-quality staff to an audience of human resources professionals and business owners.
"Business owners and hiring managers are surprised at the cost of turnover being in the thousands of dollars for a single bad hire. When it is explained to them how those costs are calculated, they can't help but want to learn how to do a better job at pre-screening, interviewing and hiring the right person," says Breistol.
Breistol's next workshop through SCORE will cover using the Internet as a hiring tool, and later this fall she will speak to the FIU Construction Management Student Chapter about employment strategies.
In the last year, the construction industry has seen strong and steady growth, a welcome trend after years of slow or no growth. One metric for measuring the recovery of the industry is seen in the number of jobs posted online today. From 2012 to 2013 the number of construction jobs online increased by over 20%, according to reports from Wanted Analytics. On ConstructionConnection.com the number of available jobs posted on the site doubled in the same time period.
An increase in online job postings indicates not only growth of the industry, but also reflects the ever-increasing prominence of the role of the Internet in the business world. As Breistol and Leighton advocate to company members of their site, businesses simply cannot afford to not be online anymore. Without some online presence, whether it be a company website, profiles on social networking sites or profiles on professional community sites like their own, construction companies run the risk of being overlooked. It can be a hard adjustment to make for some industry veterans who are used to word-of-mouth references and recommendations, but it is crucial to their companies' success. Younger generations are looking for jobs online, and to find the best talent recruiters and hirers have to look for them there.
"Companies that don't have in house Human Resource departments or are not Internet savvy themselves tend to use other sources than online sites to source candidates," Breistol explains. "This is in part due to lack of time or knowing how to search for a match. Construction Connection works like a dating site. The employer tells the system what they are looking for in a candidate and the candidate tells the system what they have to offer, and the system puts the top matches together all in the same format for consistent viewing and pre-qualifying. This streamlines the hiring process and helps businesses run more efficiently."
To attend one of Suzanne Breistol's workshops in Miami, Florida, please visit the SCORE Miami-Dade website and register for the event. To schedule Suzanne to speak at your organization, contact her at 877-545-4473.
About Construction Connection
ConstructionConnection.com was created out of a need for a more effective and streamlined way for construction industry professionals to get matched with the right industry jobs and with the right industry opportunities. The founders of Construction Connection listened to both company and individuals' dissatisfaction with the traditional job boards, the paid resume blasts, the overpriced resume services and overall lack of sympathy toward the individual candidate. They also listened to the dissatisfaction from companies who post jobs only to get many irrelevant results or have to purchase high priced ads to showcase their company. Construction Connection is a patent-pending, one-of-a- kind profile creating / match-making system. The system delivers effective results. Construction Connection saves time, money and aggravation by matching people to people, people to companies, companies to people, and company to company.