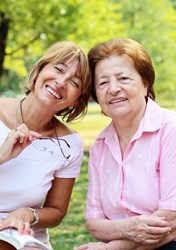 Taking care of a family member or friend is not only physically and emotionally draining, it can take a financial toll, too.
Neenah, Wis. (PRWEB) October 16, 2013
Caregivers often begin helping out of the goodness of their hearts, then quickly realize how expensive it can become. In recognition of National Family Caregiver Month coming up in November, Lynn Wilson, Founder of The CareGiver Partnership, a national retailer of incontinence products and home health care supplies, offers four places caregivers can look for financial help.
"Taking care of a family member or friend is not only physically and emotionally draining, it can take a financial toll, too," says Wilson. "While some family caregivers are reimbursed through traditional payment, long-term care insurance or by receiving a larger portion of a loved one's estate, many others must look elsewhere."
Wilson says a caregiver seeking financial assistance can start with these four areas:

Caregivers who pay at least half the expenses of a parent whose annual income is less than $3,900, not including Social Security payments, may be able to receive a tax break by claiming the parent as a dependent.
A caregiver who cannot claim a parent as a dependent, but who pays at least half of a parent's living expenses, may receive a tax break if costs exceed 10 percent of the caregiver's adjusted gross income. If the caregiver is age 65 or older, the amount need only exceed 7.5 percent of adjusted gross income.
Some U.S. veterans may be eligible to enroll in assistance programs that allow them to manage and pay for their own in-home care. Eligibility requirements include needing assistance with daily living activities and having income and assets below determined amounts.
Seniors who are low-income and eligible for Medicaid may receive a small amount of state aid to pay caregivers. Some states offer other aid options to seniors who don't qualify for Medicaid.
For assistance in accessing services for older adults, contact the Eldercare Locator at 1-800-677-1116. Visit The CareGiver Partnership for free access to a Caregiver Resource Library and hundreds of articles of interest to seniors and caregivers.
For further reading: As In-Home Caregiving Grows, So Do Opportunities to Reduce Aging-in-Place Costs
The CareGiver Partnership is a national direct-to-consumer retailer of home healthcare products for incontinence, diabetes, nutrition support and more. In its seventh year of providing products and services that help caregivers and loved ones maintain personal dignity, the company also offers an online library of more than 1,500 family caregiver resources and personal service by experts in caregiving. Call 1-800-985-1353 or visit online at http://www.caregiverpartnership.com.