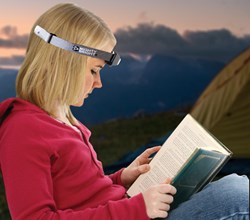 Santa Barbara, CA (PRWEB) November 20, 2013
Mighty Bright, designer and manufacturer of innovative personal LED lights, announces the GearHead LED Headlamp, the newest addition to the company's line of portable LED lights. Featuring an ultra-bright LED for hands-free, targeted white light, the utilitarian and affordable GearHead LED Headlamp provides illumination for low light outdoor activities such as camping and hiking. The GearHead is available at http://www.mightybright.com, an online shopping destination for LED lights for everyday life.
With intuitive functionality, lightweight construction, and a rugged body, the GearHead is designed for backpacking, camping, or any outdoor adventure. The GearHead delivers a high-quality, targeted beam up to 50 meters, aiming light evenly across a field of vision with its precisely engineered optical lens. The GearHead's thick, 24 inch long adjustable headband is ¾"wide for a comfortable and secure fit.
Mighty Bright GearHead LED Headlamp features:

Energy-efficient LED casts even white beam throughout field of vision
Push button switch controls three illumination modes (high, low, and flashing)
Light head tilts to direct light where needed
Adjustable, comfortable 24 inch headband holds the light in place
Durable LED lasts 100,000 hours - no replacement necessary
LED casts 75 lumens of light on high and 20 lumens on low and throws beam up to 50m
2 AAA batteries provide 40 hours of use on low and 6 hours of use on high
Lightweight LED headlamp weighs only 2.2 oz with batteries
2.5" x 1.5" x 1.5" (Length x Height x Width)
MSRP $24.99
About Mighty Bright
Mighty Bright wants everyone to have light — wherever and whenever they need it. Based in Santa Barbara, CA since 1985, Mighty Bright blends ease of use and affordability with impressive functionality, durability and portability. Since LEDs provide hundreds of thousands of hours of light, you can feel good about your earth friendly purchase. For more information, contact Mighty Bright: 800.922.3233 or visit http://www.mightybright.com.