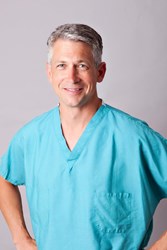 Our hope is that women will leave understanding that they are not alone and that there are specialists who can help [with secondary infertility.]
Norwalk, CT (PRWEB) October 17, 2013
On October 23 at 12 p.m. at Intensity Fitness Club in Norwalk, Dr. Shaun Williams, a Board Certified reproductive endocrinologist with Reproductive Medicine Associates of Connecticut (RMACT), will speak at "Modern Moms," a series with local experts. Dr. Williams will talk about secondary infertility and answer questions from attendees. Following this, Lisa Rosenthal, RYT-200, will lead a short Fertile Yoga class, where attendees can learn gentle poses that encourage mind-body connection.
"Secondary infertility accounts for nearly 30 percent of all infertility cases, yet many people don't realize that it is common to struggle to get pregnant even if there were no complications with previous pregnancies," says Dr. Williams, who sees patients primarily at RMACT's new location in Trumbull, CT. "Our hope is that women will leave understanding that they are not alone and that there are specialists who can help."
Secondary infertility is defined as the inability to become pregnant, or to carry a pregnancy to term, following the birth of one or more biological children. Anyone over 35 years old who has been trying to get pregnant for more than six months should see a fertility specialist; for women under 35 years old, this timeframe is one year, according to Resolve, the National Infertility Association.
RMACT, which is the largest fertility practice in Fairfield County, believes in treating the whole patient. As part of this approach, RMACT has its own Integrated Fertility and Wellness Program, which includes Fertile Yoga, acupuncture, nutrition counseling, support groups and therapy sessions. RMACT offers free Fertile Yoga classes to patients and the general public as a way for fertility patients to reconnect with their bodies and improve their overall mental and physical health. Anyone interested in attending a class led by Rosenthal can go to RMACT's website for dates, times and locations:
http://www.rmact.com/events.
"Modern Moms" is organized by Macaroni Kids, a website and e-newsletter listing kid-friendly events and reviews, and Sterling Care, a premier home health and home staff organization based in Greenwich which provides nurses to nannies. Their "Modern Moms" Meet-Up group brings together local community experts and moms to stimulate and educate modern parents as well as afford them a time to mingle with each other and meet the experts.
About Reproductive Medicine Associates of Connecticut (RMACT)
RMACT specializes in the treatment of infertility, including assisted reproductive technologies (ART) such as intrauterine insemination (IUI), in-vitro fertilization (IVF), and Comprehensive Chromosomal Screening (SelectCCS). RMACT, Fairfield County's largest fertility clinic and egg donation center, is one of 11 leading In Vitro Fertilization (IVF) centers nationwide chosen by In Vitro Sciences to participate in its Centers of Excellence program. RMACT has offices in Norwalk, Danbury, Stamford and Trumbull, and an affiliate New York fertility clinics serving Putnam and Dutchess counties. RMACT also offers infertility treatment financing and support services, such as nutrition counseling, massage therapy, psychological counseling, acupuncture and yoga, through RMACT's Integrated Fertility and Wellness Center.
The RMACT team includes lead physicians Drs. Mark P. Leondires, Spencer S. Richlin and Joshua M. Hurwitz, as well as fertility specialists Drs. Cynthia M. Murdock and Shaun C. Williams. All physicians are Board-Certified Reproductive Endocrinologists and are members of the American Society for Reproductive Medicine (ASRM), the Society for Assisted Reproductive Technology (SART) and the Fairfield County and Connecticut Medical Societies. Each has received numerous awards, and all five are Castle Connolly "Top Doctors." RMACT's IVF laboratory is accredited by the College of American Pathologists (CAP), and CLIA; other accreditations include the Accreditation Association for Ambulatory Health Care (AAAHC) and the American Institute for Ultrasound in Medicine (AIUM). For more information, visit http://www.RMACT.com or find us on Facebook.