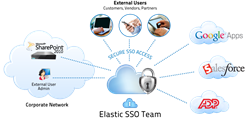 9STAR's Elastic SSO delivers a regionally-hosted, vertically integrated, self-managed, secure cloud identity solution in the Amazon AWS cloud.
Austin, TX (PRWEB) October 16, 2013
9STAR, the leader in providing enterprise-grade, secure federated Single Sign-On (SSO) access cloud software solutions, today announced the availability of Elastic SSO™, the industry's first, single-tenant, federated SSO cloud software solution that is fully integrated with Amazon's AWS global cloud computing fabric as an AMI (Amazon Machine Instance) and delivered to Enterprise customers via the AWS Marketplace. 9STAR's cloud-based delivery model is a new, game-changing improvement over traditional SaaS technology, enabling the following benefits:

Control: Totally personalized and branded, scalable, private SSO instances, under the management and control of the customer;
Compliance: Ability to establish instances anywhere (globally, regionally or locally) to enable regulatory compliance;
Access: Secure SSO access to hundreds of enterprise and cloud hosted apps (GoogleApps, Salesforce, ADP, Success Factors, Concur, Campus Labs, et al.) from anywhere using any device;
Cost: Radically improved, highly disruptive flat-fee cost model that is independent of number of users and apps, along with fast set-up in minutes, no maintenance, and web based remote management.
9STAR's Elastic SSO is available in two versions. The Elastic SSO Team Edition AMI is targeted at workgroups, teams and departments, as well as small and mid-sized businesses. The Elastic SSO Enterprise Edition is available as a 9STAR-managed cloud, or self-managed on-premises software solution for large Enterprises.
Utilizing the widely adopted, industry-standard Shibboleth SAML architecture and Amazon Web Services, Elastic SSO enables organizations to implement regional cloud instances of Identity Providers (IDPs) in available Amazon AWS regions worldwide. Elastic SSO IDPs can be provisioned on-demand within minutes, and can be configured to leverage existing on-premises Enterprise authentication infrastructure such as Microsoft Active Directory, LDAP and SQL, and can scale from small, project-based teams or workgroups to departments, organizations and Partner extranets.
Enhanced Flexibility, Security and Compliance
Employees, customers and partners need 24X7 secure access to on-premises and cloud-hosted applications from any location using their personal devices, but they also do not want their credentials to proliferate outside the control of the Enterprise. As the Enterprise continues to move to the cloud, the need for a cloud-based secure federated SSO solution that is regionally hosted, provisioned on-demand and self-manageable becomes critical.
With the Elastic SSO Enterprise solution, customers can now set up and provision a Shibboleth SAML standards-compliant Identity Service in the Amazon cloud fabric or on-premises while leveraging their existing on-premises Enterprise authentication infrastructure.
For customers who do not have access to an enterprise directory infrastructure, the 9STAR Elastic SSO Team solution provides a built-in, web-based turnkey user account provisioning, user authentication and application access management capability. Further, under 9STAR's open Shibboleth SAML model, application access is mediated through the centralized Elastic SSO instance using open standards Shibboleth SAML connectors, resulting in greatly enhanced control, security and compliance for both the Enterprise as well as the SaaS application vendors.
"Elastic SSO really changes the dynamics of on-premises and SaaS application security and access," said John Doyle, Vice President Marketing of 9STAR. "Through our vertically integrated identity stack, that includes the application connectors, user provisioning, user authentication, access management, and virtualized cloud deployment, 9STAR provides the industry's only lightweight, turnkey, open standards-based, federated SSO cloud solution for the Enterprise via the Amazon AWS infrastructure."
The 9STAR Elastic SSO Team Edition is available immediately through AWS Marketplace at http://amzn.to/1gHGGA2, and starts as low as $163/month. 9STAR Elastic SSO Enterprise Edition is available immediately, directly through 9STAR. Please contact 9STAR for pricing.
About 9STAR
9STAR is a rapidly growing, market leader in providing enterprise-grade, standards-compliant secure single sign-on access cloud software solutions for businesses, universities and public sector customers worldwide. 9STAR's innovative secure access virtualized software solutions are available for deployment on-premises or in the cloud and are being used by hundreds of large and mid-sized Enterprises worldwide. For more information, visit http://www.9starinc.com/ or email sales(at)9starinc(dot)com.