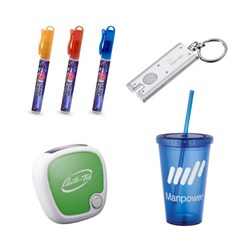 Our years of experience in the promotional marketing industry will provide an efficient and cost-effective order process for our valued clients.- APG President Matt Baron
Grayslake, Illinois (PRWEB) October 16, 2013
APG Exhibits recently expanded its overall capabilities with the introduction of trade show giveaways into its online e-commerce platform. This development, made possible via a partnership with APG's sister company Agency Promo Group, turns APG Exhibits into a "one-stop" location for all trade show marketing needs, and provides exhibitors with the opportunity to simplify their trade show planning with the additional benefit of significant cost-savings.
APG Exhibits President Matt Baron explains, "We've been working with the concept of including trade show giveaways on our website for some time now, and we thought the coming trade show season was the perfect time to implement it. We sincerely feel that our years of experience in the promotional marketing industry with Agency Promo Group will help to provide an efficient, cost-effective, and seamless order process for our valued client base."
In addition, APG will be running a special throughout the fourth quarter of 2013: 10% off of all promotional product/custom apparel orders with any concurrent online signage purchase of $1000 or more (through use of the coupon code "promo10" at checkout). APG has spent significant time streamlining its internal processes, which has reduced overhead and in turn allowed the company to pass those savings onto its customers, an approach that Baron has taken to calling "client-centered thinking."
The selection of available trade show giveaways will be chosen with input from Agency Promo Group, based on years of data regarding ROI and overall popularity. Constant updates will be provided with the end goal of providing the very best product choice specifically for trade show exhibitors. All of the new products and services will come with the same APG Exhibits guarantee of quality and client satisfaction.
For more information about APG Exhibits or their expansion into trade show giveaways, please contact APG Exhibits at 866-752-2192, or use the email link provided.
...
APG Exhibits is a premier online provider of trade show displays, outdoor exhibits, custom booths, promotional giveaways, custom banners and more. APG Exhibits' mission is to provide high-quality trade show display products and outstanding customer service at the guaranteed lowest prices. Contact Customer Support at 866-752-2192 or visit apgexhibits.com for more information.