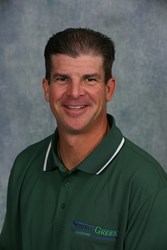 Pilot Point, TX (PRWEB) October 17, 2013
Customers of Frank Garrett's Federal Pest Solutions know they can count on him and his team to keep their yards free of mosquitoes. And after becoming a franchisee last month, Federal Pest Solutions is expanding its service offerings with the addition of Spring-Green Lawn Care franchise.
Spring-Green delivers traditional and organic lawn and tree care services to residential and commercial clients nationwide. A recognized leader in the professional lawn and tree care industry, Spring-Green has been beautifying neighborhoods and communities for more than 36 years.
Garrett, a Pilot Point resident, took ownership of Federal Pest Solutions in 2001 and has spent the past decade building and transforming the business.
"When I took over the business, we were only offering residential pest control," said Garrett. "As locals know, we live in an area with a strong horse industry. Years ago, someone asked me if I could fix their automated fly misting system in their barn. It wasn't something I knew anything about but I seized the opportunity, taught myself the craft and built a sizeable client base."
Misting systems, common in barns, eventually morphed into backyard mosquito misting systems, and Federal Pest Solutions began servicing residential equipment as well. At the same time, the company was branching out into commercial pest control.
"My clients, both residential and commercial began requesting fertilization and lawn pest control," said Garrett. "Due to customer demand I got licensed, but with Spring-Green I will be able to offer my clients far more options when it comes to lawn fertilization and weed control."
Garrett took advantage of Spring-Green Lawn Care's Green Associate Roll-In Program. This fast track program is designed for qualified candidates who own independent green industry businesses that already provide professional lawn and tree care services and want to convert that portion of their business to a Spring-Green franchise while keeping their existing company intact. Garrett will go through training at Spring-Green's headquarters in early September and will be fully operational by the end of the month.
"I wasn't actively looking for a lawn care franchise, but when I learned about Spring-Green and all they had to offer, I knew it would be a great addition to my business," said Garrett. "Like Federal Pest Solutions, Spring-Green is committed to quality and excellent customer service. The two businesses align perfectly."
While Federal Pest Solutions has three other employees, Garrett plans to focus his efforts on Spring-Green during the launch phase. "Customers are very finicky about their yards. I have many customers who only want me taking care of their lawns," said Garrett. "I appreciate their confidence and I want to personally introduce them to Spring-Green Lawn Care and show them I'm committed to the services they have been asking for and now taking them to a higher level."
Garrett, 44, a native of Houston, relocated to North Texas after graduating from TCU. His Spring-Green territory includes Frisco, McKinney, Prosper, Celina and Pilot Point, Texas.
###
About Spring-Green Lawn Care
Founded in 1977, Plainfield, Illinois-based Spring-Green Lawn Care has been delivering lawn and tree care services nationwide for over 36 years. Its service is centered on the beautification of residential and commercial customers in middle-class and affluent neighborhoods and communities. Spring-Green is an attractive opportunity for entrepreneurs and existing green industry business owners who want to align themselves with a franchise opportunity that has proven economic resilience, healthy profit margins, industry leading business and marketing intelligence, recurring revenue and retirement & family planning through business ownership. Spring-Green currently has 117 franchises operating in 26 states. Spring-Green Lawn Care franchise owners gave the franchise opportunity a 96 percent overall quality rating, according to the Franchise Research Institute September 2013 survey. For more information, visit http://www.springgreenfranchise.com or http://www.spring-greenfranchiseblog.com.