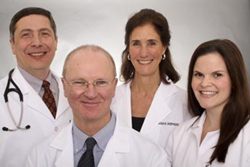 The Coleman Institute is dedicated to developing treatments that are safe, comfortable and affordable for patients, enabling them to take that first step towards recovery and a drug-free life.
Tampa, FL (PRWEB) October 16, 2013
The Coleman Institute was awarded the "Best of the Best" designation for excellence by Follow Media Consulting, Inc. in the category of Tampa Addiction Treatment and Tampa Detox. This award signifies the continued commitment and dedication of the area's best in addiction treatment, rehab and detoxification services.
Breaking an addiction is not easy. First comes detox. Persevering through cold sweats, headache, vomiting, nausea, disorientation and hallucination is just the beginning of a long road to recovery. At the Coleman Institute, they make that road manageable. The Coleman Institute has developed a suite of innovative treatments which help people move on with their life. Since 1998, their revolutionary detoxification techniques have achieved a remarkable 98% success rate for over two thousand patients.
Since 1998 The Coleman Institute's mission has been to help patients with addiction on their road to recovery. The Coleman Institute, under the direction of Dr. Peter Coleman, has developed a suite of unique programs that help people detoxify and stabilize from the effects of opiates (heroin, methadone, OxyContin, etc.), alcohol and benzodiazepines.
The Coleman Institute's programs have helped thousands of patients on their journey to be free from the destructive effects of addiction to Opiates, Suboxone, Methadone and Alcohol. More importantly, their Accelerated Detox Technique (ADT), combined with Naltrexone therapy, has helped many of their patients to stay free of their addictions.
If you, a friend, or a loved one needs treatment from a drug or alcohol addiction, there is help, hope and healing. Contact The Coleman Institute today at (813) 400-1380, or visit at http://www.thecolemaninstitute.com.
About Follow Media Consulting, Inc.
Named one of the best SEO companies by Jonas Marketing, Follow Media Consulting, Inc. is a rapidly growing worldwide firm of SEO, Social Media, and Mobile Marketing Professionals. Follow Media Consulting, Inc. headquarters is located in Richmond, VA. However, our professional team is networked across the world, with regional offices across the United States, in the United Kingdom, Canada, Australia, France, South Africa, the Philippines, and India.