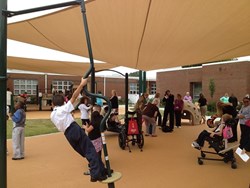 "Play is often talked about as if it were a relief from serious learning. But for children play is serious learning. Play is really the work of childhood." - Fred Rogers
Virginia Beach, VA (PRWEB) October 17, 2013
Pembroke Elementary School created the Bodies In Motion Learning Park to foster their mission of academic success in a multicultural learning environment accommodating individual learning styles through developmentally appropriate instruction. In addition to kindergarten through fifth grade general education programs, Pembroke has classrooms dedicated to providing services to students with severe disabilities and serves as the primary home of the Autistic Children Program.
The Learning Park playground was designed in conjunction with WPL Site Design and Sparks @ Play LLC to provide opportunities for children of all abilities to play on the playground. Meeting the needs of the entire student body was important for the school community and the playground incorporates a plethora of play elements to engage the senses, as well as accessibility for children with impaired mobility.
WPL and Sparks @ Play, the Landscape Structures, Inc. distributor for Virginia, teamed up previously to create JT's Grommet Island playground.