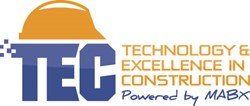 Our 2013 speaker roster features a variety of influential experts with diverse professional backgrounds. There truly is something for everyone
Harrisburg, PA (PRWEB) October 16, 2013
Mid Atlantic BX (MABX), a trade association dedicated to connecting the construction industry, has announced the lineup of presenters for its 2013 TEC Summit, which will take place October 30, 2013 at the Lancaster County Convention Center in Lancaster, Pa. The summit is sponsored by Print-O-Stat, Inc.
TEC, or Technology and Excellence in Construction, will feature 10 presentations from experts on topics like the Design/Build project delivery model, bio-adhesive technology, data management and project coordination, and other innovative trends impacting architecture, engineering and construction professionals.
"Our 2013 speaker roster features a variety of influential experts with diverse professional backgrounds. There truly is something for everyone. From design professionals, to jobsite leaders, to marketing professionals, we created this event so that all attendees will gain valuable insight into trends and topics that are changing how the industry operates," Megan Roby, MABX director of meetings and events, said.
The 2013 TEC Summit will feature:
The Bio-Adhesive Technology: Chemical, Rheological and Mechanical Properties
Ellie (Elham) Fini and Mahour Parast, North Carolina A&T University/Bio-Adhesive Alliance
Data Management & Project Coordination: Avoiding Headaches in the Field
Matt Bachert & John Scott, CP, Print-O-Stat
It's All Geek to Me
Christine Haas, Christine Haas Consulting
How Technology Strategically Enhances Design/Build Project Delivery
Glenn Ebersole, Hollenbach Construction
Technology on the Jobsite: A New Generation of Tools
Matt Wilson & Amy Martin, SECCO Inc
From Brown Paper Bags to Granite, A Recycler's Story
Marc Leiberman, Forever Stone LLC
The ABCs of Internet Marketing: SEO, PPC, SMM and What They Mean
Greg Guenther, WebPageFX
Is Your Business a Rain Maker? – Cloud Computing
Evan Henry, SotirIS Information Strategies
The final two presentations will be announced prior to the TEC Summit. For more information, visit midatlanticbx.com.
According to MABX Executive Director Chad Harvey, the association started this event as an efficient way to connect industry professionals to experts who are successfully implementing the latest practices and methods.
"The MABX membership includes contractors, subcontractors, design firms, suppliers and manufacturers, and technology is constantly affecting all of them in different ways," Chad C. Harvey, MABX executive director, said. "TEC not only addresses the most relevant trends, but includes real-world examples of how different construction and design professionals are utilizing these technologies."
The 2013 TEC Summit runs from 8:30 a.m. to 3:00 p.m. Registration includes a continental breakfast and lunch. The cost of registration is $125 for MABX members and $250 for non-members. Print-O-Stat, Inc. is the title sponsor for this year's event.
Celebrating its 75th anniversary, Mid Atlantic BX is a trade association dedicated to connecting the construction industry. With its products and service offerings, MABX supports the business development efforts of its members and promotes the growth of the construction industry. MABX provides real-time, online access to thousands of regional new construction projects annually, along with project blueprints, specs, addenda, bid lists and other pertinent bidding documents.
From online, industry-specific services, to the Construction Buyers Guide, Construx magazine, industry-specific training seminars and networking events, Mid Atlantic BX connects the construction industry from project concept through completion.
For more information about the Mid Atlantic BX, please contact Nate Pigott at (866) 499-2665 or Nate(at)MidAtlanticBX(dot)com. Also, visit our website at http://www.MidAtlanticBX.com.