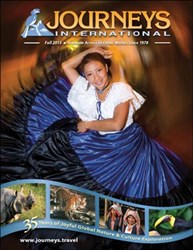 This catalog is a vivid invitation to more than a hundred adventures to the most remote and interesting places on earth.
Ann Arbor, MI (PRWEB) October 16, 2013
JOURNEYS International offers hundreds of spirited worldwide adventure and ecotravel inspirations in their free, full-color, 40-page Fall exploration catalog. The catalog is online or available by phone or email request.
This 35th Anniversary Edition of the biannual publication tempts consideration of innovative nature, culture and adventures including the search for snow leopards in the Himalayas, tigers in India and gorillas in East Africa. You will take the first informational steps on climbs of volcanoes in Africa, Sumatra, and Nicaragua. There are new and tantalizing cultural trekking trips in Nepal, China, Thailand, and Argentina. Other new programs take fresh looks at Botswana, Tanzania, the Arctic, Australia, Papua New Guinea, Greenland, Albania and the Czech Republic. For the nautical naturalist, set sail on enticing new Galapagos itineraries on five of the best small ships to navigate the evolutionary wake of Darwin. Adventurous families will find new multi-generational trips.
"Our staff and leaders are really excited about our new season's customizable and small group travel opportunities," says company president Robin Weber Pollak. "This catalog is a vivid invitation to more than a hundred adventures to the most remote and interesting places on earth. These trips are about more than travel. We want you to feel the spirit, joy and local character of each place."
All JOURNEYS trips also feature expert local guides who are often specialists in natural history, cultural arts, or photography and who possess a special knowledge of local logistics, politics, and favorite sites. JOURNEYS U.S. staff including company owners and senior directors also accompany many of the group trips.
"JOURNEYS trips are most appropriate for travelers seeking personal experiences and spontaneous encounters with local people and environments, " Pollak advises. "You will come home with a sense that you have enjoyed, understood and appreciated a place very different from your usual environment and in ways different from the routines of conventional large group tours."
JOURNEYS International, founded in 1978, is America's oldest family-owned ecotravel company. Expert travel advisers are ready to share their personal experiences and travel advice for travel to more than 50 destinations worldwide. Call 1-800-255-8735 or visit us online. JOURNEYS office hours are 8:30-5:30 Eastern Time, Monday-Friday.