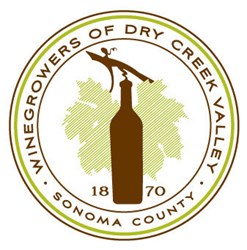 It has been a fast and furious harvest...the quality is outstanding. So far the zinfandels are the winner of the bunch; it could be the best in 10 years!
Healdsburg, CA (PRWEB) October 16, 2013
Good news for wine lovers: 2013 was another banner vintage for Dry Creek Valley vintners, according to the Winegrowers of Dry Creek Valley (http://www.wdcv.com). The region's winegrape growers are wrapping up a slightly early harvest that, on average, yielded even higher quantities than the stellar 2012 vintage. Combined with excellent fruit quality across all varietals, this means consumers can look forward to high-quality Dry Creek Valley wines at easy-to-swallow prices.
With generally mild weather throughout the growing season, Dry Creek vintners are thrilled about what they deem a "phenomenal harvest." Says grower Glenn Proctor, "Harvest was generally early, given the near perfect conditions we had over the summer. We had some recent cooling that allowed the zinfandel to ripen and mature fully. We've seen light spots of rain, but the weather following these events has been excellent and has not caused any issues in the vineyard."
The region's winemakers agree. Clay Mauritson of Mauritson Wines says, "It has been a fast and furious harvest...the quality is outstanding. So far the zinfandels are the winner of the bunch; it could be the best in 10 years!"
Unti Vineyards Winemaker Mick Unti notes, "Fruit quality is high. Overall, 2013 has the potential to be close to 2012 in color and tannins with brighter acidity. Grenache, Mourvedre and some blocks of Syrah seem to be better than in 2012."
Pedroncelli Winery Assistant Winemaker Montse Reece is equally excited about the prime fruit resulting from this year's harvest. "Zinfandel, cabernet sauvignon, Bordeaux and Rhone grapes....we saw intense color this year in all red varieties. Our cabernet sauvignon got ripe sooner than usual and shows good acid and phenols concentration. Zinfandel was the last variety to ripen this year but reached a very good level of sugars and phenols. High quality overall for the varieties."
2013 is looking to be a banner year for white varietals as well. "This vintage of sauvignon blanc looks particularly outstanding," says Dry Creek Vineyard winemaker Tim Bell of his winery's signature variety. "I'm really looking forward to our sauvignon blancs this year."
David Mounts, winemaker and proprietor of Mounts Family Winery, concurs. "Our Viognier came off early, high acids and high sugar, then Marsanne with high sugar and low acid, then Roussanne on a few picks with low sugars and lower acids; grenache blanc and picpoul blanc were last with low sugar and good acids. Whites across the board are exciting this year -- good color, great flavors and tropical aromatics."
Kokomo Winery winemaker Erik Miller sums up the sentiments of many of Dry Creek Valley vintners, saying, "Another beautiful vintage and, much like 2012, the tonnage was big as well. The acid was more balanced this year than last, and the flavors very intense, similar to last year. It feels a bit like the '09/'10 vintages of Bordeaux with back-to-back stellar vintages!"
In related harvest news, Dry Creek Valley vintners garnered multiple top honors at the Sonoma County Harvest Fair Professional Wine Competition, including five "Best of Class" awards. Award-winning wineries included:
Best of Class Winners:
2010 Forchini Vineyards & Winery Reserve Cabernet Sauvignon $32.00
2011 Mazzocco Sonoma Briar Zinfandel $29.00
2012 Mill Creek Vineyards Gewurztraminer $23.00
2011 Pedroncelli Alto Vineyards Sangiovese $16.00
2011 Trattore Rousanne $25.00
Double Gold Winners:
2010 Gustafson Family Vineyards Heritage Tree Vineyard Mountain Cuvee Zinfandel $20.00
2011 Mazzocco Seaton Reserve Zinfandel $52.00
2011 Wilson Winery Sydney Vineyard Zinfandel $36.00
2011 Wilson Winery Buzz Zinfandel $36.00
Gold Winners:
2011 Dry Creek Vineyard Old Vine Zinfandel $30.00
2010 Dutcher Crossing Taylor Reserve Cabernet Sauvignon $45.00
2011 Dutcher Crossing Proprietor's Reserve Syrah $29.00
2012 Dutcher Crossing Winemaker's Cellar Chardonnay $32.00
2010 Fritz Winery Cabernet Sauvignon $35.00
2009 Gustafson Family Vineyards Watchtower Vineyard Cabernet Sauvignon $38.00
2010 Hawley Late Harvest Zinfandel $28.00
2009 Mazzocco Sonoma Merlot $40.00
2010 Mazzocco Sonoma Cabernet Sauvignon $30.00
2011 Mazzocco Sonoma Beasley Zinfandel $34.00
2011 Mazzocco Sonoma Pony Reserve Zinfandel $52.00
2011 Mazzocco Sonoma Serracino Reserve Zinfandel $52.00
2011 Mazzocco Sonoma Pony Zinfandel $38.00
2011 Mill Creek Vineyards Zinfandel $28.00
2011 Pedroncelli Bushnell Zinfandel $22.00
2012 Pedroncelli Chardonnay $14.00
2010 Wilson Winery Sydney Vineyard Cabernet Sauvignon $34.00
2011 Wilson Winery Ellie's Vineyard Zinfandel $36.00
2011 Wilson Winery Molly's Vineyard Zinfandel $36.00
2011 Wilson Winery Nolan Zinfandel $40.00
2011 Wilson Winery Reserve Zinfandel $40.00
2011 Wilson Winery Sawyer Vineyard Estate Reserve Zinfandel $50.00
2011 Wilson Winery Zinfandel $68.00
About Winegrowers of Dry Creek Valley
The Winegrowers of Dry Creek Valley® (WDCV) is an association of more than 60 wineries and 150 growers, of which most are family-owned and multi-generational, located in Healdsburg, Sonoma County, California. WDCV is dedicated to advancing the recognition, enhancement and preservation of Dry Creek Valley as a premium winegrowing region. Dry Creek Valley is known for its signature varietal Zinfandel and the pristine and unspoiled beauty of the valley. http://www.wdcv.com
MEDIA CONTACTS:
Michelle McCue / Anne Alderete
McCue Marketing Communications
(213) 985-1011
michelle(at)mccuecommunications(dot)com / anne(at)mccuecommunications(dot)com