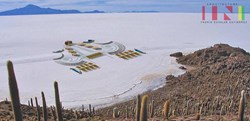 The creation of the world's first runway on the Salar de Uyuni is a monumental achievement. We want to share Bolivia with the world as a culinary, cultural and mystical travel destination, and we are using fashion as a medium. - Sandra Coscio
Houston, Texas (PRWEB) October 21, 2013
On November 8, 2013 an impressive fashion show, "Fashion in Salar de Uyuni" will unveil under the arching sky of the Bolivian Altiplano. The largest and highest salt desert in the world, Salar de Uyuni, will serve as a stage for the premiere event fusing fashion, culture, fine gastronomy and architecture. The fashion show will celebrate the history and rich traditions of Bolivia's culture and beauty while previewing stellar fashion designs from world renowned fashion designers. The event is the brainchild of Bolivian ATB Contame lifestyle journalist, Sandra Coscio, Fashion Designer Galo Sanchez and a group of VIP sponsors and volunteers for the purpose of gaining global tourist recognition for the region.
Salar de Uyuni salt plains are located in the department of Potosi in Bolivia, near the crest of the Andes; recognized as the world's highest and largest salt flat at 11,975 feet above sea level and 4,085 square miles wide. The remote location has proven not be a deterrent from the realization of the event. "The creation of the world's first runway on the Salar de Uyuni is a monumental achievement. We want to share Bolivia with the world as a culinary, cultural and mystical travel destination, and we are using fashion as a medium," says event spokesperson, Sandra Coscio.
Award winning architect, Yngrid Echalar Gutierrez, has engineered the first fashion runway concept in the cactus studded area of the plains, Isla de Ancahuasi. This amazing architectural feat has been made possible by the support of the Bolivian Government of Potosi. "The surrounding stage seating will provide the audience with remarkable 360-degree views of the Salar de Uyuni. The runway shape pays homage to the harvest of the Quinoa and our Mother Earth," explains Architect Yngrid Echalar Gutierrez.
Fifty models from Top Models Agency will showcase couture fashion designer interpretations using indigenous textiles and latest fabric technology. The "Fashion in Salar de Uyuni" event is produced by fashion week guru Pierre Dulanto and managed by Galo Sanchez's associate, Diego Benitez. The list of Latin American Fashion Designers includes; Galo Sanchez, Carmen Camacho-awaj Warni, Sonia Aviles of Bolivia, Nicolas Felizola, Samy Gicherman of Venezuela, Cecilia Bolocco of Chile, Alvaro Reyes of Columbia, Carlos Vigil of Peru, Alvaro Nunez of Costa Rica and Fernando Melo, Ricardo Patraca, Eduardo Villegas of Mexico.
Emcee and Bolivian Fashion Designer Galo Sanchez, host of the event is coordinating onsite exclusives with international media such as Mercedes Soler of "Notimujer" CNN en Español, Telemundo, Fashion TV-Uruguay, TV-Potosi, Vanidades Magazine among others. "We are thrilled the designers will showcase their ethic collections in front of international press," commented Galo Sanchez. A star-studded list of Latin American personalities such as entertainer, Marile and South American dignitaries will be attending the event. Guests are expected to be pampered and delighted with culinary creations of Quinoa based dishes by Chef Jackie and Restaurant Shibu highlighting and honoring the Andean commodity.
The event provides sponsors an opportunity to gain visibility on a global level attracting brands such as BoA Bolivia de Aviacion, Nescafe', Natural Cosmetics, EcoMarketStore.com, Casa Fischer, Resturant Shibui, Cerveza Potosina, Minas San Cristobal and more. Other associations are making this event possible including the Government of the Department of Potosi, Sucre Textil Moda and La Maison. From the United States, NYC Fashion Week runway photographer Jay Marroquin and luxury lifestyle communications agency Zapatero +Bucaram Public Relations will attend.
About: Fashion in Salar de Uyuni/ Desfile de Moda Etnica Internacional, El Salar de Uyuni se Viste de Moda: "Fashion in Salar de Uyuni" was created from a volunteer group of high powered women that passionately long for a fused recognition of the culture, food and hospitality of Bolivia and its people. The chairs that have actively participated in supporting and promoting the event include: Sandra Coscio, ATB Contame, Miss Bolivia Universo 2013 Alexia Viruez, Bélgica Suárez Miss Universe Honduras 2009, Claudia Arce Miss Universe Bolivia 2009, and TV Journalist of ATB Noticias La Paz, Katherine David who was Miss Bolivia 2008.
Video Links:
"Fashion in Salar de Uyuni" Link: http://www.youtube.com/watch?v=qjevzpbz3IY
Contame ATB: http://www.youtube.com/watch?v=ZrpnXUVh9ck
Sandra Coscio Interview with CNN Journalist Ismael Cala: http://www.youtube.com/watch?v=VFg9J_hzY0g
Moda Total TV
http://www.youtube.com/user/ModaTotalTV?feature=watch
(Spanish Event Title: "DESFILE DE MODA ETNICA INTERNACIONAL,EL SALAR DE UYUNI SE VISTE DE MODA")
Live Feed for Event Courtesy of Gustavo Portocarrero of Bolivia TV: http://www.boliviatv.bo/
Makeup Provided by: MARY LIZZIE
Fashion Designers:
INTERNATIONAL DESIGNERS
NICOLAS FELIZOLA-Venezuela
ALVARO REYES-Colombia
CARLOS VIGIL-Perú
ALVARO NUÑEZ-Costa Rica
FERNANDA MELO-México
EDUARDO VILLEGAS-México
RICARDO PATRACA-México
CECILIA BOLOCCO-Chile
SAMY GICHERMAN-Venezuela
GALO SANCHEZ-Bolivia