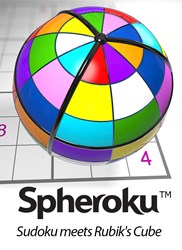 This app is like Sudoku on steroids. Instead of a square, it's a sphere. And instead of 2D it's 3D. (...) You will never play another sudoku game after you try this one. - Kenny Francis, AppPicker.com
Port Orange, FL (PRWEB) October 16, 2013
Tired of the same old puzzle games? Looking for something new that will stimulate your gray matter and test your thinking skills? If so, tune in to NewsWatch on the ION Network on October 21 or the History Channel on October 24 to meet Spheroku™, the mobile device game that combines the logical challenge of Sudoku with the 3D visual test of the Rubik's Cube. On those dates, Andrew Tropeano, host of AppWatch, will introduce the Spheroku™ game app for iOS and Android to the NewsWatch audience of 100 million households and demonstrate why users are giving it the highest marks for innovative fun.
3d Department's release of Spheroku™ marks a radical next step in the evolution of Sudoku, the wildly popular numbers puzzle that appears in newspapers and magazines around the world. The mobile game maps the traditional 9 x 9 x 9 Sudoku grid onto a sphere and offers users the choice of Sudoku's traditional number scheme or a dynamic color array that will appeal more to anyone who finds the number approach a little intimidating. To "win" at Spheroku, players must combine the logic, memory, and observational skills required by Sudoku with the movement and spatial coordination needed to solve the Rubik's Cube. The user feedback and online reviews to date suggest that Spheroku™ sparks the imagination and competitive drive of users while providing the same great brain workout that mental health professionals attribute to the original Sudoku. They also show that Spheroku™ provides engaging entertainment for Sudoku aficionados and non-aficionados alike.
To try out Spheroku™, download it free from the Apple iTunes (http://goo.gl/L4AJte) and Google Play (http://goo.gl/PI57mK). (You can also view an online demo at http://www.spheroku.com.) The free version will challenge you with puzzles at four different difficulty levels. Once you're hooked, you can then build your skills and add months of fun by purchasing additional 100-game puzzle packs for $1.99.
About NewsWatch
NewsWatch is a weekly national news and entertainment television program that debuted in March 1990. The show focuses primarily on consumer electronic reviews, mobile app reviews, and breaking medical and government news. It broadcasts on more than 60 full-power stations covering the top 20 U.S. markets and more. In fact, every episode of NewsWatch airs in over 190 markets and reaches more than 100 million households across the country.
About 3d Department
3d Department was founded by Pawel Bodytko, a veteran 3D artist and product designer. Pawel has worked closely with companies such as Sun & Skin Care Research, LLC; Alva-Amco Pharmacal Companies, Inc.; Fruit of the Earth, Inc.; and others. In particular, he handled the design and conceptual work on many well-known sun-care brands, such as Ocean Potion®, No-Ad®, Jimmy Buffett's Margaritaville® Parrot Head™, and Rite-Aid RX Suncare™, as well as Alva-Amco's pharmaceutical brands such as Psoriasin®, FungiCure®, and Diurex®.
He is joined at 3d Department by his daughter, Alexandra Bodytko, who, in addition, to being involved in many other aspects of the game development, composed and produced the musical score used in the game. She is an active musician, often performing at Gloria Estefan's Bongos Cuban Cafe in downtown Disney World and in Universal Studios in Orlando, Florida, as well as other venues. Alexandra Bodytko plays tenor saxophone and holds a BM in Jazz Studies from the University of Central Florida.
The game has a patent pending.