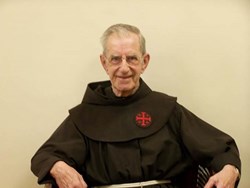 Our Catholic mission is to serve and share God's Word one heart at a time.
Washington, DC (PRWEB) October 16, 2013
Brother Callistus Welch was born in Walsall, England in 1931 and came to the United States at the age of 18. He joined the Custody of the Holy Land at the Franciscan Monastery in Washington, DC in 1957.
He made his First Profession on October 16, 1961 and served for 52 years. Some of his positions during that time included Vice-Commissary, Vicar, Guardian and Commissary.
In 2004, Fra Callistus was appointed Treasurer of the Franciscan Foundation for the Holy Land (FFHL), a foundation founded in 1994 under the auspices of the Franciscan Custody of the Holy Land. The FFHL was created to safeguard the basic human rights and continued presence of the Christian minority living in the Holy Land.
FFHL currently has in excess of 14 programs which include academic scholarships, subsidized housing and employment opportunities for the Christians in the Holy Land.
Brother Callistus served faithfully in many roles but the FFHL is particularly grateful for his role as Treasurer. He was known to say often, "Our Catholic mission is to serve and share God's Word one heart at a time," as he interacted with visiting pilgrims in the Franciscan Monastery Book Store where he enjoyed working.
The Rite of Reception of the Body along with evening prayers will be held Wednesday, October 16 at 4 p.m. at the St. Savior Franciscan Monastery, 1400 Quincy St., N.E. Washington, D.C. 20017. Visitation and wake service will follow from 4:30 p.m. to 6 p.m.
On Thursday, October 17, there will be a viewing from 9 a.m. to 10 a.m. in the main church followed by a Mass of Christian Burial at 10 a.m. Interment will take place at the Monastery Cemetery.
Brother Callistus had retired to Hospice Care at Carroll Manor Nursing Home where he died at 1:00 a.m. at the age of 81- on the feast day of his namesake, the Feast of St. Callistus.