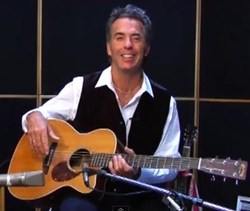 (PRWEB) October 15, 2013
The Ultimate Acoustic Blues, available October 16 at GuitarControl.com, is a tour led by Dillon through a history of American blues music, from ragtime influences, gutbucket blues and the delta blues to more shuffle-y big-city blues and acoustic country.
The preview blues guitar demo, now available on YouTube, lets Dillon show off some of the tricks for new and experienced guitarists he shares in his series- playing a simple blues rhythm with his thumb while mixing in intricate leads, using a slide to get a bluesy sound, and improvising up and down the neck of the guitar. His playing in this quick video is an indication of why he has been a go-to backing and studio guitarist for major-label musicians and a heavily sought music teacher for 30 years.
This sneak preview of the upcoming series is the latest of its kind; GuitarControl.com has released a number of Jimmy Dillon videos this fall that cover many critical blues guitar techniques guitarists can use to improve their original composing and solo-ing skills. The videos give guitarists an idea of Dillon's perspective on the blues - from originals like Wes Montgomery to modern acts like the Avett Brothers or the recently disbanded Mumford and Sons.
A Michigan native and founder of the Blue Star Music Camps, Jimmy Dillon plays and teaches a variety of musical styles including blues, rockabilly, latin, funk, and country music. Dillon has released five albums worth of original material and covers, and as a backing musician has supported artists like Bruce Springsteen and Bob Dylan. In addition to the duet he performed with blues legend John Lee Hooker, Dillon has performed alongside Sting, Joe Cocker, Buddy Guy, BB King, and many more.
About GuitarControl.com
GuitarControl.com is packed with resources,video tutorials and lessons, articles, and affordable DVDs to help new guitarists learn and experienced guitarists master their instruments. Guitarists of any experience level find guitar lessons from instructors with a broad array of music backgrounds and styles - blues, jazz, metal, classical, folk, progressive rock, punk, and everything in between. Guitarists can find relatable, easy-to- follow videos regardless of their ability or musical taste.