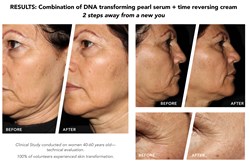 We've cracked the code once and for all to develop an anti-aging breakthrough that not only reverses existing signs of age, but prevents future aging by teaching skin to act young at the cellular level.
(PRWEB) October 16, 2013
WHAT IT IS: The antidote to cellular aging. DNA is our life code that determines who we are—not only how we look, but also how we age. It's the building block of all life — and the determining factor behind the visible manifestations of age. Renowned dermatologist Dr. Fredric Brandt's latest breakthrough goes straight to the source of skin aging, delving to the DNA level to stop and turn back the cellular clock. Harnessing unprecedented technology years in the making, Dr. Brandt skincare Do Not Age (DNA) targets the DNA mistakes and malfunctions and the alteration of cells' oxygenation that occur with age to stop lines, wrinkles, sagging, dullness and loss of volume. With Do Not Age, Dr. Brandt has found a new pathway to anti-aging and gone where no skincare has gone before. Targeting the causes versus the effects, Dr. Brandt tackles aging at its point of origin: DNA.
"Do Not Age truly represents the next frontier of anti-aging. When it comes to how we age, science has shown us that we don't always have to accept what we were born with. Your DNA has programmed you to an extent, but now we're cracking that DNA code and changing the skin-aging process", explains Dr. Brandt. "We've cracked the code once and for all to develop an anti-aging breakthrough that not only reverses existing signs of age, but prevents future aging by teaching skin to act young at the cellular level."
Do Not Age employs an exclusive skin transforming system, the Juvenescence + Complex, to address aging at the cellular level on three critical fronts:
The Problem: Lack of ATP (vital energy of the cells) responsible for insufficient cell respiration and decrease of cell vitality and function
The Fix: Strengthen the mitochondria to boost production of ATP, optimize cell respiration and jumpstart skin metabolism
The Problem: Loss of DNA instructions that leads to an accumulation of mistakes in cell replication, triggering production of detrimental cells and global aging
The Fix: Protect the telomeres (structures that protect against the degradation of genes at the end of chromosomes), or "little bumpers", and prevent them from shorting and losing DNA instructions, ultimately promoting healthy cell duplication and proliferation
The Problem: Presence of progerins (mutated proteins, biomarker of aging) that accumulate with aging and alter the cell nucleus and diminish cell lifespan
The Fix: Decrease the production of progerins to protect the cell nucleus and lengthen cell lifespan, ultimately improving skin firmness and restoring skin's architecture
The Do Not Age collection includes:
DNA transforming pearl serum (1.4 oz, $150): This universal anti-aging serum is formulated to jumpstart skin's metabolism and restore strength and vitality, promoting and maintaining younger-looking skin longer. The serum features Dr. Brandt's exclusive Juvenescence + Complex encapsulated in state of the art Duo PearlTM technology, the result of five years of research and six patents. Produced one by one, the pearls are like mini laboratories: combining lipo + hydrophases for maximum ingredient efficacy and preservation, they unlock the ultimate anti-aging power of Juvenescence + Complex to reverse the domino effect of cellular aging. With each application, get the right dose of ingredients while bursting the pearls. The paraben-free formula helps combat intrinsic aging and reverse signs of time by prolonging cells' youth and energy. Wrinkles are smoothed, skin's texture is refined, and facial contours appear redefined. The formula visibly transforms skin in just one week, lifting, smoothing, hydrating, firming, illuminating and revitalizing. DNA transforming serum can be integrated to any beauty routine to maximize results and can be used at any age.
DNA time reversing cream (1.7 oz, $130): Reset the clock and recover skin's youth with this nourishing, sculpting, and firming cream that is infused with an energetic blend of essential oils. Formulated with Dr. Brandt's Juvenescence + Complex, the cream helps restore skin's architecture, addressing and reversing sagging skin and loss of volume, elasticity, density and wrinkles. Developed with hydrating Babassu Oil to provide the ultimate sensorial experience and delivered in an exclusive lamellar structure, the cream melts at skin temperature to deeply moisturize while delivering the power of Juvenescence + Complex. A joyous and energetic blend of essential oils creates a therapeutic aromatherapy effect.
DNA triple peptide eye cream (.5 oz, $80): Powered by Dr. Brandt's exclusive triple peptide complex, this ultra-rich formula glides on to rejuvenate, illuminate, and reverse signs of time. The cream helps restore and replenish moisture while reducing puffiness and fading dark circles. The formula diminishes the appearance of lines and wrinkles as it recharges tired eyes and creates a more rested look.
DNA firming neck cream (1.7 oz, $65): Formulated with Dr. Brandt's platinum peptide technology—skin's personal GPS—this anti-aging neck cream infuses skin with potent active ingredients via an advanced delivery system to directly target problem areas to repair and restore skin's structure. The formula provides and sustains superior hydration, firming and tightening the delicate, sag-prone neck area for a smoother, silkier, more lifted effect. The cream helps skin regain elasticity and density, improving the appearance of the neck and décolleté.
Who is it for? The DNA collection is ideal for anyone with aging concerns in search of fast, visible skin-transforming results.
Dr. Brandt recommends: Apply transforming pearl serum on clean skin am and pm. Follow with time reversing cream for maximum results. Apply triple peptide eye cream and firming neck cream am and pm as well. For optimal application, follow dr. brandt's exclusive method, available on drbrandtskincare.com and in the included insert.
Where to find it: Available beginning October 2013 exclusively at Sephora stores nationwide, sephora.com and drbrandtskincare.com
ABOUT dr.brandt® skincare:
dr. brandt® skincare is based on the vision and direction established by world-renowned celebrity dermatologist, Dr. Fredric Brandt. He has dedicated over 30 years of research, practice and experience as the visionary leader of his Dermatology Research Institute, Dermatology Associates and medical practices in New York & Miami. Dr. Brandt's passion and dedication has led to the creation of innovative, high-potency formulas to reset the clock. Experience skin-changing science, when you take the doctor home with you®.