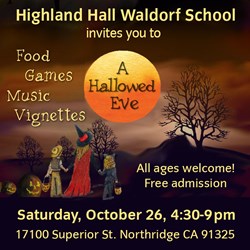 We hope folks from throughout the Los Angeles area will feel welcomed and join our school community in the fun.
Northridge, CA (PRWEB) October 16, 2013
Highland Hall Waldorf School will hold its yearly "A Hallowed Eve" on October 26, from 4:30 to 9:00. This seasonal fair features guided tours through storybook vignettes including the magical jack-o-lantern display – a darkened room brightened only by hundreds of candle-lit pumpkins which were hand-carved by the families at the school. Other treats include live acoustic music around the fire pit, games and crafts, home-cooked food and baked items, and pumpkin sales.
"It's so sweet to see the children and the adults to don their costumes and step into the magic offered by this evening event," says Melani Gold Friedman, president of Highland Hall's Parent Association. "We hope folks from throughout the Los Angeles area will feel welcomed and join our school community in the fun."
This event is open to the public, appropriate for all ages, and admission is free. There is ample street parking. Highland Hall is located at 17100 Superior Street, Northridge, CA, 91325. For more information, go to 818-349-1394 x233, outreach(at)highlandhall(dot)org or visit the school's website at http://www.highlandhall.org.
Highland Hall Waldorf School, located in Northridge, CA, was founded in 1955, and is the oldest Waldorf school on the west coast. It provides Waldorf® Education from Pre-school through High School to families throughout the San Fernando Valley and the greater Los Angeles area. Its unique approach to learning successfully addresses the changing needs and capacities of children at each stage of development. Fully 98% of its high school graduates move on to renowned colleges and universities; 42% of Waldorf graduates pursue college majors in mathematics or science. Featuring a curriculum of academically challenging lessons infused with arts and hands-on learning, Highland Hall provides students with a solid academic foundation, the ability to think creatively, a sympathetic interest in the world, self-confidence, and an abiding moral purpose.
Highland Hall, a non-profit school, does not discriminate due to race, religion, gender, national origin, disability, or other basis protected by law.