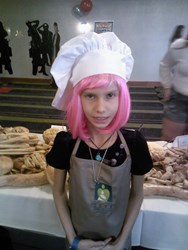 Foundation Financial Group believes in Katrina. She is a brave fighter in the midst of a battle for her life, but we know she can win.
Rochester, New York (PRWEB) October 16, 2013
Foundation Financial Group has established a national philanthropic initiative in support of one of the company's employees and his daughter. The initiative, For a Cancer Free Katrina, provides an opportunity for FFG employees to make monetary donations toward Katrina Bolter, who is currently receiving chemo treatments for a rare type of childhood cancer.
"Foundation Financial truly unites to take care of our own," said Jessica Gueterman, FFG event coordinator. "We will do everything in our power to support our FFG family members. The funds we raise for Katrina cannot cure her cancer, but will hopefully help her parents with medical care expenses. Foundation Financial Group believes in Katrina. She is a brave fighter in the midst of a battle for her life, but we know she can win."
Walter Bolter moved from Jacksonville, Fla., to Rochester, N.Y., to accept a management position at FFG's Rochester Regional Sales Center. Shortly after unpacking, his family received devastating news. Their vibrant and athletic 8-year-old was diagnosed with Wilms tumor, a malignant growth on her kidney.
The Bolter family was shocked by the diagnosis. There were no signs that the little girl was ill until she began running a low-grade fever. "The day before diagnosis, Katrina was zip lining at a festival, the picture of a happy, healthy child," said Bolter, FFG's Division General Manager. "A mere 24 hours later, she was hooked up to machines in the Emergency Room. Her left kidney had to be removed ASAP because the tumor had grown so quickly."
Wilms tumor is a rare cancer that does not often develop after age 6. About 500 children in the United States are diagnosed with this form of cancer every year. It is not due to diet, environment, or activity. The average Wilms tumor is one pound at diagnosis; Bolter's tumor was five pounds.
"Every week, a nurse draws blood to check Katrina's counts," continued Bolter. "She is a 3rd grader at French Road Elementary and attends school as much as she can. Because she gets tired easily, most days Katrina does not have the energy to leave the house. The hardest part is watching her go through this pain. As a parent, you would do anything to take that pain away, and you feel so helpless because you cannot."
Foundation Financial Group typically focuses its philanthropic initiatives on community improvement. But, when a team member is suffering, FFG employees organize initiatives to support their coworkers in distress. In the past year, Foundation Financial Group has organized five such campaigns for employees who have lost a home to a fire, battled with illness, and faced other life-changing challenges. Foundation Financial's For a Cancer Free Katrina initiative will span the corporation's 17 locations across the U.S. Employees may donate to Katrina's cause via FFG Points (production-based reward incentives converted into dollars) or payroll deductions.
About Foundation Financial Group
Foundation Financial Group is a multibillion dollar financial services corporation. FFG offers its customers Best in Class service through its Insurance, Retirement, and Mortgage Services. Named one of the fastest growing financial companies in the country by INC magazine for the third year running, FFG has continued to grow its nationwide presence with over 100,000 new customers per year in 39 states. In addition to the value that Foundation Financial provides every customer, it is also dedicated to its communities and the people who live in them. Through a vast array of philanthropic endeavors, the company not only provides significant monetary donations but also fosters a workforce environment that encourages all team members to personally make a difference. Foundation Financial is committed to its strong focus on customer service and community investment as it continues to grow and compete with the largest financial institutions in the world.
Foundation Financial Group reviews all public relations inquiries. For additional information, interview and image requests, contact the Foundation Financial Group Public Relations Team.