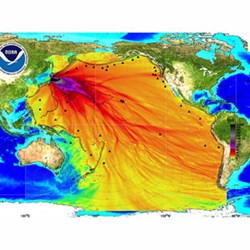 With radiation leaking into the Pacific, the US West Coast and Canadian Pacific coastline is at risk of contamination...
(PRWEB) October 16, 2013
All Hands Fire Equipment, a leading New Jersey fire and safety equipment provider, now offers highly accurate pocket-sized radiation detectors.
In light of many news reports on radiation due to the accident at the Fukushima nuclear plant, many people are concerned about radiation and are looking for assurance about safety where they work, live, and play as well as with respect to the food they eat.
All Hands Fire Equipment President Donald Colarusso a Firefighter with 26 years of experience talked about the new All Hands radiation detection device:
"With radiation leaking into the Pacific, the US West Coast and Canadian Pacific coastline is at risk of contamination so All Hands Fire Equipment is announcing a personal radiation detector. You can take it to the beach or to your local fish market and check the fish before you buy it. Doomsday preppers will want to add a radiation detector to their survival gear but whether you believe that there are real dangers or just want to be extra safe, our radiation detectors offer some great features and benefits."
All Hands Fire Equipment sells a variety of emergency preparedness items, including survival equipment, emergency food supplies, disaster supplies, and more.
Chief Colarusso went on to say, "While you might joke about doomsday prepping, there are a lot of news stories that point to valid concerns about radiation and emergency preparedness in general."
Fukushima Radiation Concerns in the News
Various news stories include information about radioactive water at Fukushima (source: RT.com), reports of radiation levels hitting at a new high around the contaminated water storage facilities (Source: BBC), and information about fatal radiation levels (source: The Guardian) and a proposed ice wall are causing many to take this possible threat seriously. An admission in August about the fact that there are about 300 tonnes of radioactive groundwater seeping into the Pacific Ocean each and every day as well as leaky pipes and storage tanks have meant that almost $500M has been invested in attempting to help with the crisis.
Radalert is pocket sized and the Radalert 100 is only $699.
You can buy a radiation detector online on the All Hands Fire Equipment website. Learn more about the device at http://www.allhandsfire.com/RADALERT-100. It can be shipped worldwide.
About All Hands Fire Equipment
All Hands Fire Equipment is a family owned and operated company serving NJ and NY with fire safety equipment as well as safety, rescue, and emergency preparedness items. All Hands fire Equipment has been in business since 2001 and continually adds to their product list based on the wants and needs of their customers. For a list of their top emergency preparedness items, visit http://www.allhandsfire.com/emergency-preparedness-equipment-supplies.
Mailing Address:
All Hands Fire Equipment
506 Atkins Avenue
Neptune NJ 07753
Email: sales(at)allhandsfire(dot)com
Follow All Hands Fire Equipment on Facebook at
http://www.facebook.com/AllHandsFire and on Twitter: at
http://twitter.com/allhandsfire