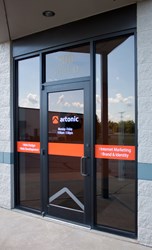 At Artonic, we value the planning process.
(PRWEB) October 17, 2013
Michigan web design and Internet marketing company, Artonic, located in Tecumseh, MI recently won Honorable Mention for the ProtoShare Challenge, a prototyping competition, on August 30, 2013. Interactive prototypes were judged on design quality, user experience, completeness, and overall effectiveness.
As an Honorable Mention winner, Artonic received $250 for its interactive prototype of a commercial website.
"At Artonic, we value the planning process," Owner Matt Harper explains. "With ProtoShare we can plan our website projects from beginning to end. It's easy to experiment with layout and navigation, because ProtoShare is such a flexible tool. Making changes or updates to our prototypes is quick and easy, which is important."
Bob Wiggins, CEO of ProtoShare, states, "We had a lot of fun holding the ProtoShare Challenge, and learned more about what our customers are doing with ProtoShare. I'm sure we're going to run the Second Annual ProtoShare Challenge sometime next year."
Local entrepreneur, Matt Harper, founded Artonic in 2005. Since that time, Artonic has grown into a full-service Internet marketing and web design company, employing graphic designers, Internet marketers, account executives, and web developers. Artonic is one of the leading Internet marketing and web design companies in Michigan.