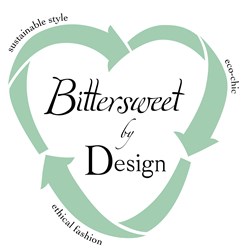 Style is eternal, but the fashion industry in its current state is not. We all want to look good, but there is a better way.
Brooklyn, NY (PRWEB) November 22, 2013
Disillusioned by the state of the apparel industry and wanting to promote a change in the way consumers think about buying clothes, Jessica Shaver founded Bittersweet by Design with one goal: change the world. "I believe one person can make a difference," Shaver says. "But I also know that the best way to do that is to affect as many people as possible." With more than 7 years of fashion industry experience Shaver, 28 and Pratt Institute alum, was tired of waiting for the industry she loves to catch up with the changing climate. "Under the current 'fast fashion' mentality, we sacrifice quality and standards for a lower price tag," she says. "We dispose of garments in quantities so large that we don't know what to do with all the waste. Style is eternal, but the fashion industry in its current state is not. We all want to look good, but there is a better way." Launched in August of 2013 after two years of research and planning Bittersweet by Design is an online boutique lovingly curated to provide timeless yet modern fashion for the eco-friendly, and socially responsible consumer.
"To us 'sustainable' is a gradient, so we took our passion for protecting our beautiful natural spaces and a desire to help our global family and drafted our 'rules of sustainability,'" Shaver explains. Brands that are featured on the online boutique are carefully selected because they exhibit at least two of the rules of sustainable style:
Eco-friendly: Use of organic fibers; low impact dyes; recycled materials (e.g., plastic bottles becoming silky polyester), sustainable fibers (e.g., bamboo and linen).
Ethical production: Certified fair trade; working with co-ops that help create skilled artisans and provide jobs, livable wages, and benefits.
Philanthropy: Working with charities or non-profits that give back to communities in need.
Domestic or Local production: whether the garments are produced inside the USA or produced locally from fiber to garment, we look for brands that "act locally".
Fashion*: Not so much a rule as a must have. Timeless style is in itself sustainable. We look for trend driven pieces that won't be out of style in 3 months or a year, because the longer you can wear your favorite dress the more economical it becomes. We are and will continue to focus on fashion that is timeless but modern, style that will take you day to night.
Sustainable fashion is not a new concept or even a new industry. In the past 10 years, significant strides have been made in bringing sustainable or "green fashion" to the forefront. At Bittersweet by Design we understand that sustainable fashion is the future of fashion and the core to reforming an industry that has been driven by "cheap-and-chic" for too long. "Technology and a 'give-it-to-me-now' lifestyle have reduced 'style' to an endless changing wardrobe of cheaply made clothes. We need to remember what it means to cherish the garments in our closets," Shaver offers. Now it's time for fashionistas to think about where their wardrobe is coming from and what their hard earned paychecks are supporting. The fashion industry and our capitalist society exploit the consumers' need to be fashionable in difficult economic times. As a result, workers are exploited by factories that are poorly monitored and regulated in order to produce larger quantities. The fields and eco-systems are ravaged with the use of pesticides to yield larger crops and meet the higher demands that 'fast fashion' insists upon.
At Bittersweet by Design, sustainable fashion is more than just organic cotton yoga pants made with low impact dyes ($90, GGO). Sustainable fashion is a crisp tailored jacket in a vibrant hand dyed ikat ($288, Soldat), a luxurious organic open-knit pullover that you will never want to take off ($135, Indigenous), a fair trade party dress that is playful and flattering ($94, Mata Traders), or a basic T-shirt that inspires with a simple and artistic message (Lonesome George). Sustainable fashion is constantly changing, growing and improving. Join Bittersweet by Design and help change the world with #SustainableStyle.