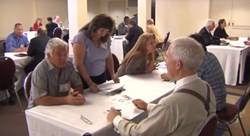 Whether you're an established business owner or an early entrepreneur wondering what are the next steps, what do you need to do, who do you need to contact, this is a real go to event.
(PRWEB) October 25, 2013
TriTech Small Business Development Center (SBDC) is a unique business solution for new and experienced entrepreneurs looking for a bit of help to get the ball rolling. Funded by a grant from the Small Business Administration, so we're not looking to make a profit off the business owners, off the entrepreneurs," says Director Mark Mitchell. "Because of the grant we're required to offer consulting services at no charge."
Comprised of 12 former CEOS, angel investors and entrepreneurs who "have a passion for pushing these companies forward and shortening the learning curve;" the group offers one-on-one consulting sessions for entrepreneurs to help identify capital, commercialize new technologies, market products and services as well as becoming investor ready.
TriTech SBCD recently hosted the 4th Annual "Funding the Big Idea" event. The main purpose of the gathering is to educate entrepreneurs on the process of meeting with investors and pitching their business. "I know of no other event that has as many angel investors as we have at this particular event."
The day is broken up into three sections; speed dating, networking and the piranha pool. During the speed dating segment entrepreneurs are given five minutes to meet with five different angel investors. "We try to build this as an education only experience but many times they may give you a business card and say see me after the event I'd like to know more about it. So you'd like to basically attract their attention. Tell them what it does, how it makes money. But they'll ask you questions in terms of what is your intellectual property? Do you have FDA regulations? Do you have sales?"
Next is the networking event where entrepreneurs can mingle with the rest of the angel investors they might not have already met with in private. Lastly is the piranha pool which consists of four finalists chosen at the conclusion of the speed dating round, who get the opportunity to pitch for a panel of investors. "It's similar to Shark Tank but not as brutal." Mitchell says the investors do ask difficult questions however, so entrepreneurs have to be ready and able to respond quickly.
"Recently the angel investors gave an entrepreneur $500,000 and the guy had no prototype, no sales, nothing. When asked why they gave him the money, they said 'Because we like him.'"
TriTech also offers an ongoing business workshop called "Become Investor Ready" and seminars aimed at helping business owners prepare. Mitchell says he and the rest of the team dedicate so much time to the organization because it's a way of "paying it forward," and they genuinely love seeing the success of new businesses in the community helping boost local economies.