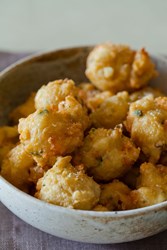 (PRWEB) October 16, 2013
Live Maine lobster delivery service, GetMaineLobster.com, wants to enhance life by adding lobster, and revealed its newest recipe just in time for the holiday season: Holiday Maine Lobster and Corn Fritters with Quick Pickled Cucumber.
"Everyone's favorite time for dining is upon us – the holiday season – and Maine lobster is on the menu," says Chef Mac Arrington. "This is a great way to use ingredients you've had lying around in your kitchen to make a very sweet and savory appetizer with only a little heat from cayenne that is ultimately cut with the acidity of quick pickles!"
Ingredients for this Maine appetizer include two Maine lobster tails, one corn on the cob, one-third cup all-purpose flour, one egg, one half of a thinly sliced cucumber, salt and sugar as needed, one teaspoon of cayenne pepper, and two to three cups of canola oil for frying.
To prepare, first add some oil into a large pot and heat to 340 degrees. For the quick pickles, toss the cucumbers with a pinch or two of salt and sugar in a small bowl, and let it sit for at least 15 minutes. Remove the kernels from the cob and combine with the diced lobster tail in a separate bowl. Then, season the mixture with a pinch of cayenne pepper and freshly ground black pepper. Add in the flour and toss until everything is fully coated. Next, fold one beaten egg into the mixture. Add enough flour to the batter to make it thick enough to hold everything together.
Once the oil has been heated to 340 degrees, carefully add balls of the Maine lobster and corn mixture into the oil using a large spoon or an ice cream scooper. Fry for four to five minutes until golden brown. Using a slotted spoon, remove the fritters from the oil and place them on a wire rack or paper towels to remove any excess oil. Season with salt immediately and, using a skewer, spear a cucumber slice and a fritter for the perfect appetizer for a holiday party!
Browse Get Maine Lobster's wide range of seafood offerings, access other Maine seafood recipes or view current seafood specials for delivery by visiting GetMaineLobster.com or call (866) 562-.4817. Stay updated and Like us on Facebook or follow us on Twitter.
About GetMaineLobster.com
GetMaineLobster.com, a division of Black Point Seafood and Black Point Gourmet, hand-selects the finest Maine lobster, seafood and beef products for convenient distribution throughout the United States. Their passion is to make fresh, quality seafood readily available to customers across the country, which is why they buy from only the most trusted, well-established suppliers to ensure that they receive the finest products available.
GetMaineLobster.com was selected out of the more than four million small American businesses served by Chase bank to represent its new Platinum Business Checking product for its 2013 national advertising campaign.