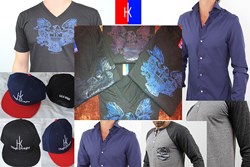 We see this as an opportunity to combine our love for country, fashion and design, to address what we see as a void in the apparel industry...
Brooklyn, NY (PRWEB) October 16, 2013
Hugh Knight USA (HK USA) launched on October 15 on the crowdfunding website KickStarter.com, a distinctively American line of men's clothing.
Men's clothing accounts for over 50,000 jobs and represents a $9 billion industry. However, manufacturing jobs in the U.S. apparel sector are down 85 percent since 1990, and capacity is down 81 percent, according to a recent Supply Chain Digest article. Only two percent of apparel sold in the U.S. is sewn in the U.S. Yet there is a movement to "reshore" the industry, and a local startup called Hugh Knight USA is showing how it's done.
Billing itself as the "Embodiment of the American Spirit", Hugh Knight USA has developed a line of menswear that is 100 percent "USA Made", from the cotton and other raw materials, to the manufacturing, to the distribution, every stage is completed on American shores by Americans, currently in New York, Florida, and California.
Where those in favor of outsourcing to developing nations point to lower costs, the opportunity to focus on or expand core business functions, and benefit to the host economy; opponents cite the need to retain local jobs to support domestic growth and minimize the trade deficit, the higher and more easily enforced standards governing product and environmental safety, child-labor and working conditions, and maintenance of fair costs valuation and compensation. The same opponents to offshore outsourcing more strongly note the need to maintain American independence and competitiveness.
That is where Hugh Knight comes to the rescue. According to HK's Steven C. Hunter, "This concept came about one day when I was getting rid of some clothing and noticed that all the clothes that I have were made abroad. I then decided to purchase some American made apparel and to my dismay I could not find any clothes made in America."
HK's employees say they feel proud and confident that they are contributing to the domestic economy and producing clothing that gives their wearer a proud, distinguished, honored, cool feeling. But those leading the charge at Hugh Knight say that just as important is that the HK brand represent a uniquely American flavor of high-quality design that is appealing to the everyday man.
By the looks of it, it is doing just that. Hugh Knight's clothing "exudes style and class and features long-sleeve dress shirts, button-neck baseball shirts, v-neck graphic tees, and tees with custom pockets". Items in the new HK line range in price from $22 to $79.
Men's gravitation toward trendiness has been steadily increasing, reportedly at 14.8 percent in 2011. At the same time, they have been mounting an exodus from department-store brands toward specialty brands, such as what HK has to offer. Where does style fit in this trend? Right alongside, as men have been increasing their purchases of casual wear, wanting to stand out in defiant comfort where others would sooner hold on to the drag of office wear, especially when they can put their dollars to work.
Fashion and image go hand-in-hand, and if, as Forbes magazine contributing writer Marianne Bickle suggests, a "good suit can seem to make [a] man look wealthier, smarter, nicer, and definitely more successful," what does this say for a man who wears American? Reason would add 'strong', 'independent', 'loyal', and 'passionate' to the list. Hugh Knight would say 'proud', 'distinguished', 'honored', 'cool'.
HK USA has a presence on Facebook, Twitter, and Google+. Readers wishing to show their support for Hugh Knight's mission can visit the company's KickStarter.com page at http://www.kickstarter.com/projects/419582973/hugh-knight-usa-mens-clothing or through HughKnightUSA.com, where the company is striving for $15,000 to purchase machinery to improve manufacture efficiency and capacity.